Suspect indicted in fiery carnage on Las Vegas Strip; grand jury adds another case from 2010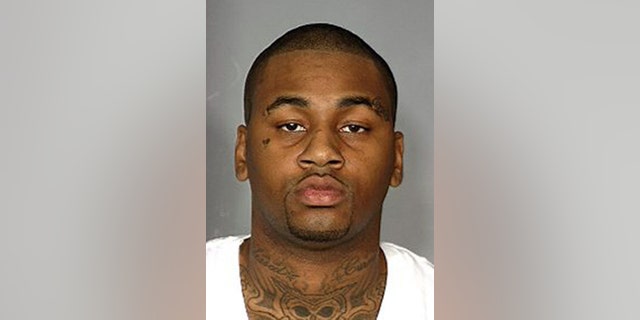 NEWYou can now listen to Fox News articles!
LAS VEGAS – A self-described pimp was indicted Friday in Nevada state court on charges that could bring the death penalty if he is convicted in a fatal shooting and fiery crash that killed three people on the Las Vegas Strip in February.
In an unexpected move, the Clark County District Court grand jury also indicted Ammar Asim Faruq Harris, 27, on a charge of robbery and three felony sex assault counts in a 2010 case that had been dismissed last year when the alleged victim refused to testify.
Prosecutor David Stanton said the second indictment didn't represent double-jeopardy under Nevada law because it was dismissed without prejudice before a preliminary hearing. That allows prosecutors to seek new charges after the alleged victim, who now lives in Texas, testified before the grand jury.
The rape charges could put Harris in prison for a minimum of 10 years. He could get two to 15 years on the robbery charge if convicted.
Clark County District Attorney Steve Wolfson has said he was considering the death penalty in the Las Vegas Strip incident but has not yet made a decision. Wolfson was out of town on Friday and unavailable for comment.
The indictment in the Strip shooting and crash accuses Harris of the same 11 felonies — three counts of murder, one count of attempted murder and seven counts of discharging a weapon — that are contained in criminal complaints filed against him on Feb. 22.
Harris is expected to plead not guilty at his arraignment on May 6 in Clark County District Court in both cases. A Monday court date in Las Vegas Justice Court was canceled.
Harris was being held without bail at the Clark County jail in Las Vegas. His lawyers, David Schieck and Randall Pike, weren't immediately available for comment.
Tourists compared the carnage and crashes early Feb. 21 to a Hollywood action film. The stunningly violent shooting occurred at the busy intersection of Las Vegas Boulevard and Flamingo Road, which is flanked by Caesars Palace, Bellagio, Bally's and the Flamingo.
Harris is accused of shooting from a black Range Rover into a Maserati sports car that then slammed into a taxi that burst into flames. Taxi driver Michael Boldon, 62, of Las Vegas, and passenger Sandra Sutton-Wasmund, 48, of Maple Valley, Wash., were killed. The Maserati driver, 27-year-old Kenneth Cherry Jr., died at a hospital.
Another man in the Maserati suffered gunshot wounds and survived. Five other people in several other vehicles sustained lesser injuries.
Police said Harris and Cherry had exchanged angry words at a casino valet stand before speeding with tires squealing up the neon-splashed Strip. Investigators found no gun in the Maserati and no evidence that Cherry returned fire before crashing.
Long before the shooting, Harris posted videos of himself fanning a stack of $100 bills and boasting about luxury cars, prostitutes and living in a house full of women who were all paying him. Records showed he lived in Miami, Atlanta and Las Vegas.
Records also show Harris was never convicted of pimping. But the 2010 case prompted police to seek charges of pandering by force and felon in possession of a concealed weapon. Prosecutors went ahead with robbery, sexual assault, kidnapping and coercion with a weapon charges before the case was dropped.
Harris was previously convicted in South Carolina in 2004 of felony possession with intent to sell a stolen pistol and convicted in Atlanta of a misdemeanor marijuana possession charge.
_____
Find Ken Ritter on Twitter: http://twitter.com/krttr