Suspect in Fort Hood Shootings to Be Arraigned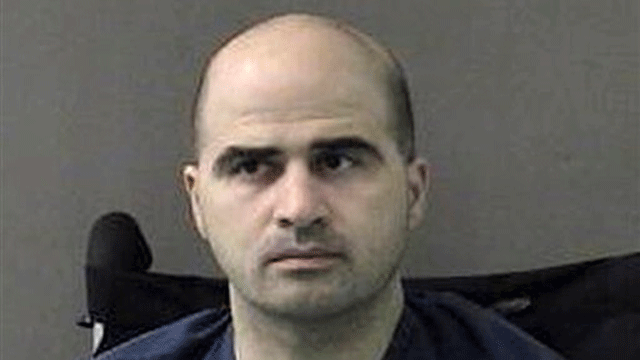 FORT HOOD, Texas – The Army psychiatrist charged in the deadly Fort Hood shooting rampage nearly two years ago was scheduled to be arraigned Wednesday, his first courtroom appearance since the commander of the Texas Army post decided he would face the death penalty.
Maj. Nidal Hasan, charged with 13 counts of premeditated murder and 32 counts of attempted premeditated murder, could enter a plea or opt to wait until another hearing. According to military law, however, he cannot plead guilty because it is a death penalty case.
Col. Gregory Gross, Fort Hood's chief circuit judge, is expected to set dates for other hearings and for the trial. Documents filed in the case show that jurors will be brought in from neighboring Oklahoma, said Hasan's lead attorney John Galligan.
Fort Hood's commander, Lt. Gen Donald Campbell, announced two weeks ago that Hasan would be tried in a military court and would face the death penalty in connection with the November 2009 rampage. That decision echoed recommendations from two Army colonels who also reviewed the case.
Hasan's defense team, which includes two Army attorneys, has declined to say whether it's considering an insanity defense.
The report from Hasan's mental evaluation has not been disclosed. The three-member military panel was asked to determine whether he is competent to stand trial, if he had a severe mental illness the day of the shootings and, if so, whether that prevented him from knowing at the time that his alleged actions were wrong.
Hasan, 40, was paralyzed from the waist down after being shot by police that day. He remains in the Bell County jail, which houses defendants for nearby Fort Hood.
Hasan had attended several brief court hearings before last fall's evidentiary hearing that lasted about two weeks. He sometimes took notes during that hearing and showed no reaction as 56 witnesses testified, including more than two dozen soldiers who survived gunshot wounds.
Witnesses said that a gunman wearing an Army combat uniform shouted "Allahu Akbar!" -- which is Arabic for "God is great!" -- and opened fire in a small but crowded medical building where deploying soldiers are vaccinated and undergo other tests. The gunman fired rapidly, pausing only to reload, even shooting some people as they hid under tables or fled the building, witnesses said.
Some witnesses identified the gunman as Hasan, an American-born Muslim who was scheduled to deploy to Afghanistan the following month. Before the attack, Hasan bought a laser-equipped semiautomatic handgun and repeatedly visited a firing range, where he honed his skills by shooting at the heads on silhouette targets, witnesses testified during the hearing.
A Senate report released earlier this year said the FBI missed warning signs and that before the rampage, Hasan had become an Islamic extremist and a "ticking time bomb."