Study Tracks Salmon Coping With Warming River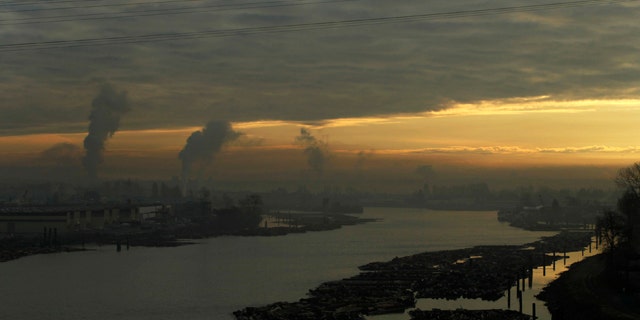 NEWYou can now listen to Fox News articles!
GRANTS PASS, Oregon – Scientists working with wild sockeye salmon struggling to cope with warming temperatures in British Columbia's Fraser River have identified broad genetic signatures that can predict which fish will live or die before spawning a new generation.
Oregon State University salmon geneticist Michael Banks, who did not take part in the study, said Thursday it represents a breakthrough in tracking how salmon are surviving new stresses from global warming.
"My first response was, Wow, this is a tremendous synthesis of a lot of groundbreaking work," he said.
The study published in the Friday edition of the journal Science comes as the Canadian government conducts an official inquiry into why the Fraser River sockeye run -- worth more than $1 billion a year to the fishing industry -- had been declining precipitously for a decade before bouncing back unexpectedly last year with the biggest returns in nearly a century.
Study authors suggested the fish may be dealing with a virus, which would be harder for the fish to fight off as the river gets warmer. They noted seven of the past 10 summers have been the warmest on record on the Fraser.
The study combined radio tracking of fish caught in the ocean and river with a genomic signature based on 32,000 genes in individual fish. Fish captured on the spawning grounds were tracked with tags.
Researchers from the Canadian Department of Oceans and Fisheries and other institutions found up to 60 percent of the fish they tracked from the ocean in 2006 had genomic signatures predicting their fate.
Fish with one of those signatures tagged in the ocean were 13.5 times more likely to die before reaching spawning grounds. Fish with the same signature that made it to spawning grounds were 3.7 times more likely to die without spawning.
One behavioral trait they found was fish that took a longer time to swim upriver were more likely to spawn successfully than fast swimmers.
University of California, Davis salmon biologist Peter Moyle, who was not part of the study, wrote in an e-mail that the techniques used in the study have major promise as a new tool to guide salmon restoration efforts.
"The study shows that salmon with a particular functional genomic signature are much less likely to survive and reproduce, whether the fish are in the ocean, in the river, or on the spawning grounds," he wrote.
Moyle said the genomic signatures are essentially responses of the fish's genome -- the full array of genes -- to a threat, with genes "turned on to guide the physiological and behavioral responses to the threat."
While the authors suggested the fish were dealing with a virus, Moyle said he thought something directly related to people was likely, such as the effects of climate change, or diseases introduced by salmon farms.