Stephen Colbert, Jake Gyllenhaal do 'Christmas Carol'-inspired Election Day skit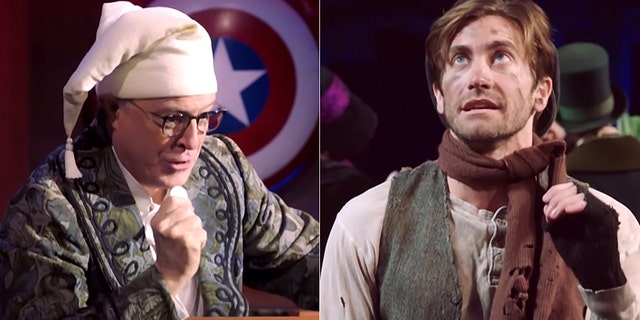 Stephen Colbert began his show Monday night with a skit about Election Day starring Jake Gyllenhaal.
"The Late Show" host played an Ebenezer Scrooge-type character in the pre-taped sketch titled, "Twas the Night Before Election Day," which is a spoof of "A Christmas Carol" that included a message urging people to go vote.
In the clip, Colbert wakes up from a dream and says three ghosts — Republican senators Chuck Grassley, Mitch McConnell and Orrin Hatch — visited him. He dashes to the balcony where he asks, "What day is it?"
Gyllenhaal, playing a townsperson, looks up and says, "It's Monday, the day before the midterms."
"There's still time to vote! Here, boy, take this shiny silver crown and go buy the biggest midterms' goose you can find!" Colbert tells Gyllenhaal's character while throwing a silver coin at him.
The skit dives into a back-and-forth between Gyllenhaal and Colbert.
"You know I can see up your nightgown, right?" Gyllenhaal asks Colbert. "I can see all the election returns and they're swinging left."
Turns out, Colbert was so excited about Election Day he forgot to put pants on.
The show tweeted out the clip with the caption: "On #LSSC tonight: Stephen professes his seasonal excitement to Late Show townsperson #JakeGyllenhaal during the most wonderful time of the year: the midterms!"
Colbert launched into a monologue, saying the Democrats were "feeling alarmingly confident."
"Democrats need to flip 23 seats to gain control, and they're feeling alarmingly confident," Colbert said. "Nancy Pelosi said out loud [last week] that they will win… then she announced that they were changing their logo from the donkey to the cursed monkey's paw."
Colbert is set to go live Tuesday for Election Night coverage on the midterms.