'Star-Spangled Banner' performance lands rocker in police trouble
Celebrating America's freedom nearly cost Lane Pittman his.
The 22-year-old University of North Florida senior was issued a citation on July 4 for breaching the peace following a raucous guitar rendition of "The Star-Spangled Banner" and a verse of Ted Nugent's "Stranglehold."
Pittman said, however, he was nearly arrested and sent to jail for the night.
"I'm going from this emotional high, and then all of a sudden I just go to this extreme low of being in the back of a police car," Pittman told Fox News.
"I can't tell you how many times they told me I would have to go downtown, do an overnight at jail, get mugshots"
Armed with a borrowed amplifier, a guitar made by his dad and a distortion pedal his friend built, Pittman set up to play the National Anthem during Neptune Beach's annual Independence Day celebration. An enthusiastic crowd quickly gathered.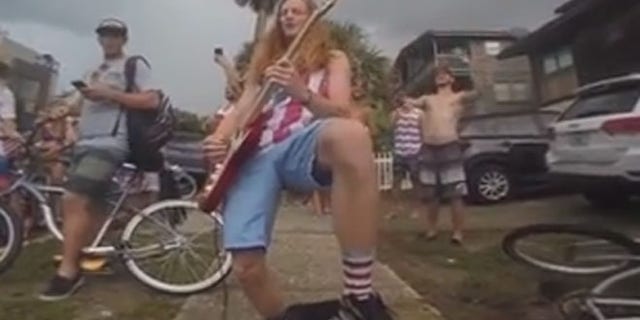 "If you've never been down here, there's a ton of people riding bikes with American flag gear, bicycles decked out, people with water slides, massive, hanging American flags – it's probably the coolest holiday celebration," Pittman said. "I've never been anywhere like it."
Pittman had learned to play the Anthem for a lacrosse team he coaches and thought the Neptune Beach crowd would "dig that."
He started off in the street, but only got a few notes out before Pittman said a police officer told him, "If you want to go to jail you can keep playing. You can't play in the middle of the street." So Pittman moved to the sidewalk, where a video captured his performance, the crowd's enthusiastic reaction – and several police officers approaching him after the conclusion of his act.
"Out of respect, the officers waited until he finished the National Anthem," Neptune Beach Chief of Police David Sembach told Fox News. "Then he broke into Ted Nugent's "Stranglehold." He was told to stop playing. A crowd of two or three-hundred had gathered and, not only were they blocking traffic, but they were getting rowdy because the police were getting them out of the street."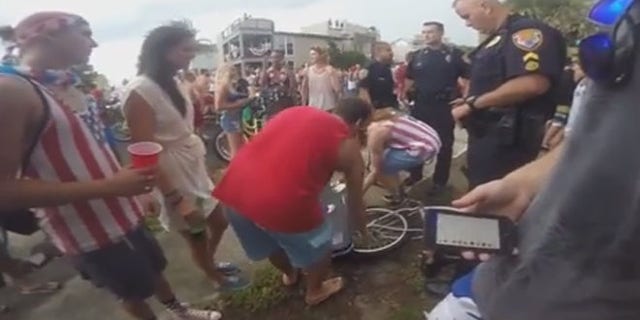 Pittman said officers walked him over to a cop car and told him to spread his legs and put his hands behind his back. Then, he said, they initially arrested him for breaching the peace and inciting a riot.
"I can't tell you how many times they told me I would have to go downtown, do an overnight at jail, get mugshots," Pittman said.
But when the officers attempted putting his information in the system, Pittman said the computer kept crashing. Finally, the officers dropped the charge for inciting a riot, issued him a notice to appear and released him.
"I know this was God at work," Pittman said.
The entire incident, however, has "really blown all out of proportion," according to Sembach
"The crowd broke up, which is what we wanted, he qualified for a notice to appear, which is what we call the citation, he was written a citation and released," Sembach said.
Pittman said if the charges are dropped, he'll be happy.
"I'm not trying to bash cops," Pittman said. "I just don't want the people surrounding me or who look up to me to think I'm someone that I'm not."