Standoff between military vet, police comes to an end in Kentucky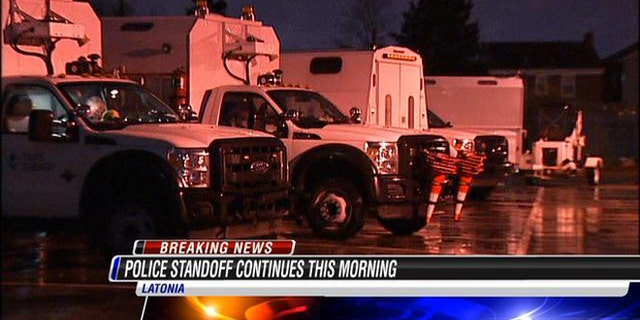 A standoff lasting more than 24 hours between police in northern Kentucky and a military veteran suffering from post-traumatic stress disorder who barricaded himself and his three children inside his home has finally ended.
Army veteran Michael Vaughan surrendered after firing at police around 12:40 p.m. and then suffering a wound in his arm through return fire, according to the Cincinnati Enquirer.
He was reportedly being taken to a hospital in Cincinnati, which is 10 miles north of his home in the Latonia neighborhood of Covington.
The matter was initially a hostage situation, but the Kentucky State Police told FoxNews.com the veteran released his three children earlier on Sunday morning after continued negotiations with police.
And although Vaughan's Facebook page was taken down at some point during the crisis, the veteran had posted several messages to it about his motivations and ongoing life troubles as the drama unfolded.
Latonia News -- a Facebook page devoted to local news in Latonia -- posted a screenshot of one of Vaughan's comments in which he reportedly wrote: "I appreciate everyone's comments, but this is something that will happen. KY Guard has the blame ... along with the Dept. of the Army and Sen. Rand Paul's office for not giving a damn about their wounded veterans who asked for help and failed to get it."
Police reportedly say they responded to Vaughan's home about 11 a.m. Saturday on a report of a man there, having an emotional crisis.
"We also detected a number of very inflammatory and emotional, as well, text messages and Facebook postings (by the suspect)," Covington Police Chief Spike Jones told The Enquirer.
"My children are fine. They are literally sound asleep," Vaughan reportedly posted to Facebook after police arrived. "I am checking on them routinely as I check the perimeter of my house. They are fine and are only in danger by the police shooting. I will not tolerate them coming near my house and will decisively engage them every time they try to do so. My children have never been in danger… by me."
The veteran reportedly fired upon police around 8 p.m. on Saturday night, although no one was injured. Police soon thereafter cordoned off the area and requested residents to turn off their lights and to stay away from windows.
The Enquirer reported the Covington Police Department said the gunman had been communicating with them sporadically, although gunfire was heard coming from the home around 4:15 on Sunday morning.
Covington Police Chief Spike Jones reportedly has said that authorities had a positive dialogue with the troubled veteran around 6:15 a.m., or two hours later. Three children – ages 15, 11 and 5 – were released from the home around 9 a.m.
The Kentucky State Police tells FoxNews.com it is not yet clear what sparked the incident, or what kind of firearms the veteran was harboring.

The Associated Press contributed to this report.