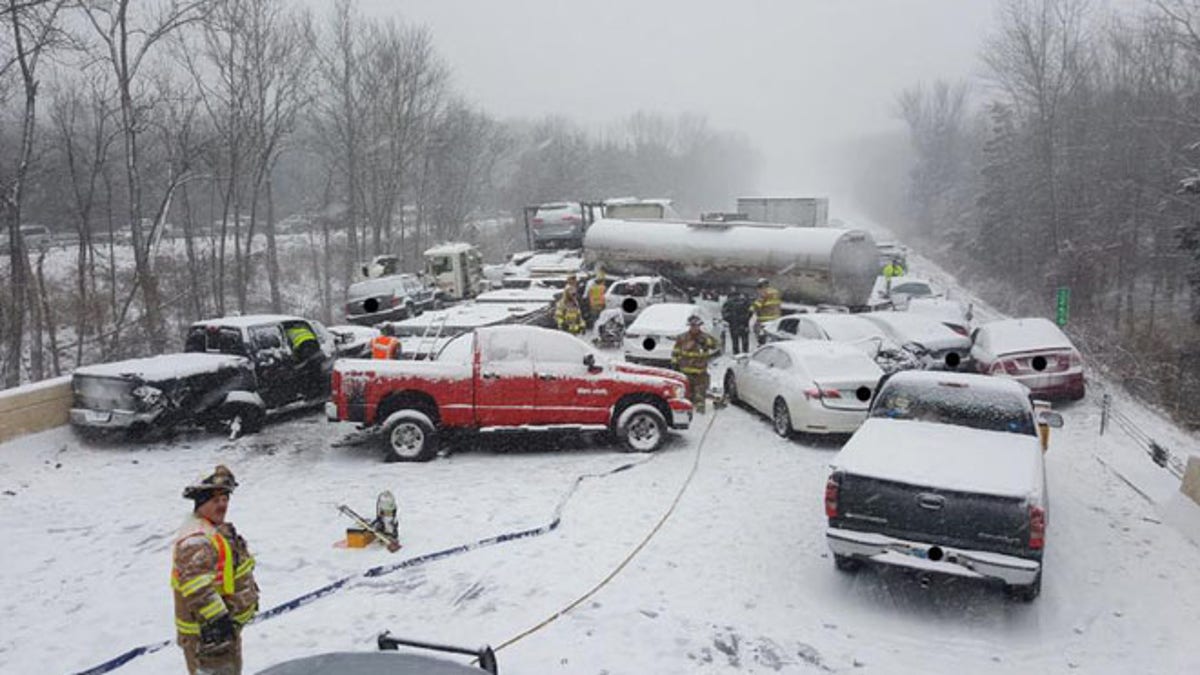 Connecticut state police responded Saturday to reports of a nearly 30-vehicle pileup on a highway near Hartford.
A snowstorm that was predicted to bring up to 8 inches of snow to the area was being blamed for the crash at exit 21 in the southbound lanes of I-91 in Middletown.
Police said no one was seriously injured. The pileup involved at least 20 cars, three tractor-trailers and a tanker.
I-91 was shut in both directions from exit 20 to exit 25 after the accident, MassLive.com reported.
Police snapped photos of the crash aftermath and posted them on Facebook and Twitter.
In Virginia, authorities say slick roads have caused more than 500 crashes, including one that was fatal. State Police Spokeswoman Corinne Geller said a man's SUV struck another vehicle, then ran off the road and overturned in a creek.
The snow has moved out of Virginia, but police say driving conditions remain dangerous and are encouraging people to stay off the roads.
Winter weather and potentially dangerous road conditions led officials to postpone the men's college basketball game between 14th-ranked North Carolina and North Carolina State that was scheduled for Saturday night.
Up to 8 inches of snow were expected in parts of Connecticut, but areas along the southeastern Massachusetts coast could get 1 to 2 feet before the storm moves away later Saturday.
Blizzard conditions were reported on Cape Cod and Plymouth County. Officials warned people to stay off the roads as the heavy snow and gusty winds were expected to reduce visibility to near zero.
The Associated Press contributed to this report.