Small Virginia distillery takes fight to Monster Energy over 'M' logo
A tiny Virginia craft distillery is hoping to slay a monster.
Family-owned MurLarkey Distillery in Bristow says it is taking the fight to Monster Energy, the energy drink company, over the right to trademark its "M" logo, which appears on its liquor bottles and merchandise.
After MurLarkey applied for the trademark, Monster Energy lodged an objection with the U.S. Patent Trade Office's Trademark Trial and Appeal Board in May.
MurLarkey's Tom Murray says he is not going to be bullied by a company that has become known for its overly aggressive tactics enforcing its trademark rights.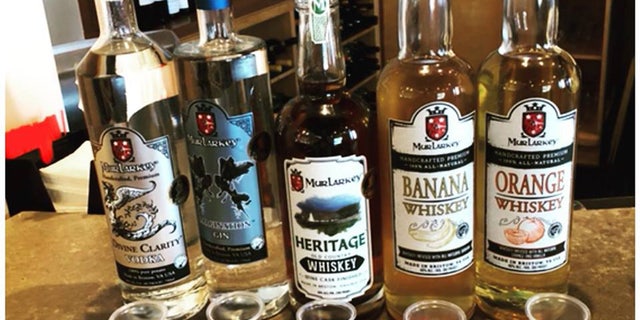 "Monster has a long history of going after small companies, that's supported by a simple Google search," Murray told Fox News. "I thinks it's unfortunate that they engage in this kind of business practice."
Monster Energy did not respond to a request for comment from Fox News.
Murray said he's not sure how MurLarkey happened to appear on Monster Energy's radar.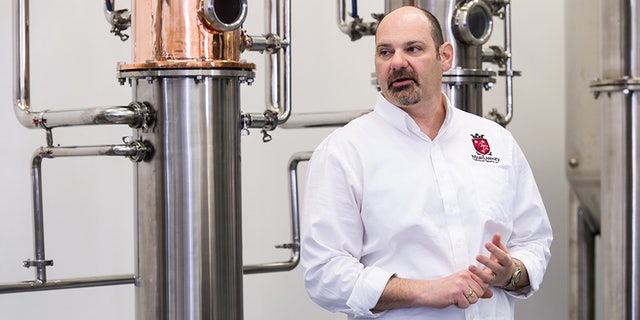 FISHERMAN USES MONSTER ENERGY DRINK CAN TO LURE FISH, HOOKS ONE RIGHT AWAY
The distillery, about 35 miles west of Washington D.C.,  has been in business less than three years and the market for its vodka, gin and various whiskies is limited to Virginia, Washington and Maryland. The move into Maryland was recent. MurLarkey has four employees -- Murray, his brother, their cousin and his father-in-law.
Monster Energy, on the other hand, is a big conglomerate based in California with 2,500 employees. The company's roots date to the 1930s. Its products are sold around the world and reportedly generate more than $28 billion a year in revenue.
"We're still trying to break a million," Murray said. He's worried about the cost of taking on Monster Energy.
Monster Energy says in its TTAB complaint that MurLarkey's logo looks like its famous "M" logo, the one on billions of cans.
Murray disputes that and doesn't believe the two logos would cause consumers to be confused — the basis of Monster Energy's objection.
ENERGY DRINKS COST NEW FATHER PART OF HIS SKULL, WIFE CLAIMS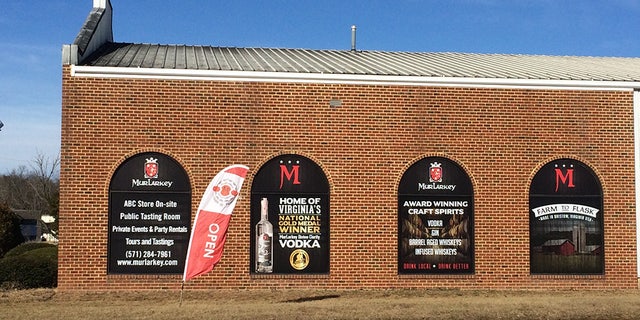 Monster Energy has filed a number of TTAB proceedings over the years, challenging the use of logos and the words "monster" and "beast" and claw-like symbols.
According to Trademarkia.com, a trademark search engine, Monster Energy was 2017's No. 1 "trademark bully," objecting to 57 trademark applications.
In 2016 Monster Energy challenged a small New Jersey brewery that wanted to trademark a beer called "Beast from the East," saying it would infringe on its "Unleash the Beast" slogan. The brewery abandoned its application.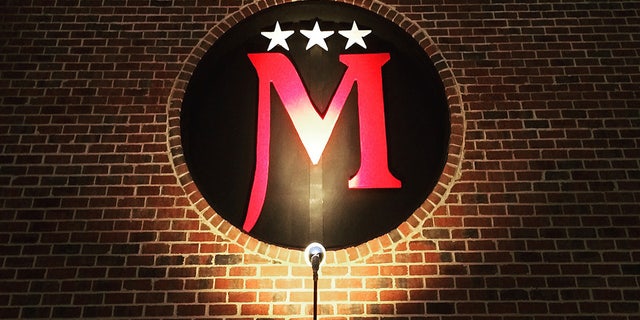 That same year, Monster Energy filed an opposition against an Iowa man and candy seller who applied for a trademark for Monstrous Bliss, saying that it would violate its trademark for Java Monster. Monster Energy won a default judgment when the Iowan failed to submit an answer to its opposition.
FATHER SUES MONSTER ENERGY OVER SON'S DEATH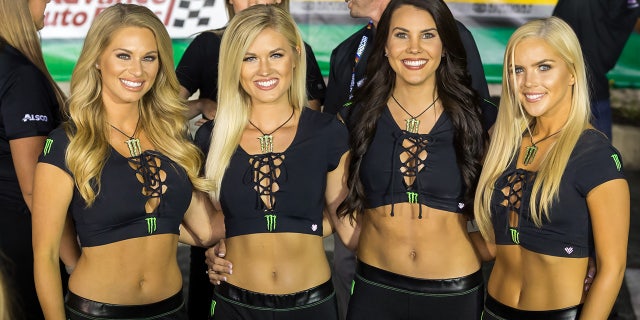 A year earlier, Monster Energy went after a winery in Bordeaux, France, with the name Dassault, claiming that allowing the name to be trademarked would confuse consumers of its Monster Assault drink. Monster Energy later withdrew its opposition.
In a long drawn out battle that began in 2014 Monster Energy challenged the trademark application of a tropical aquarium website called MonsterFishKeepers.com. over the use of the word "monster" in the company's name.
Two years ago, MonsterFishKeepers.com beat back Monster Energy's challenge to its name, but not its logo. The website was represented by a legal clinic in Boston run by law school students. The TTAB ruled that there was little likelihood that the MonsterFishKeepers name would cause confusion with the Monster Energy name.
Last year, Monster Energy challenged a tiny root beer company in D.C. called Thunder Beast over the use of the word "beast" in the company's name. The case is still pending.
As part of the proceeding, Monster Energy Chairman and CEO Rodney Sacks gave a deposition that his lawyers submitted to the TTAB in June.
During the deposition, which took place in 2017, a Thunder Beast lawyer asked Sacks about Monster Energy's inclusion on Trademarkia.com's ranking of "trademark bullies."
"You asked me if I'm aware and I don't believe an inconsequential organization that looks at silly things like that without regard to the facts can come to those conclusions," Sacks said.
He added: "I take action to protect our trademark and to protect this valuable asset that we've created and to stop people trying to profit off the backs of this company and this brand," he said. "And that's what I do, and I believe I do it properly and fairly to the best of my ability."