Severe weather causes reported 100-car pileup in Northeast
NEWYou can now listen to Fox News articles!
Severe weather caused a massive pileup Friday involving as many as 100 vehicles on a New Hampshire highway.
The chain reaction wreck occurred on Interstate 93 near Ashland, and at least one vehicle was ablaze although no serious injuries were reported. The state Department of Transportation couldn't immediately confirm the exact number of vehicles involved. The Middleton. N.H., police department said on its Facebook page that 50 to 100 vehicles were involved in the multi-vehicle crash.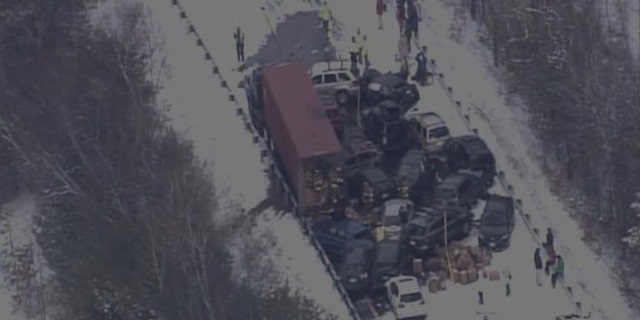 The accident prompted officials to shut down the northbound side of I-93 near exit 24. State Police said several areas hospitals were available to take in patients, and a state police dispatcher said authorities will be sending numerous tow trucks to the scene.
Weather in the area at late morning was reported to be 29 degrees with light snow.
Snow squalls and icy roads were reported in that area of New Hampshire on Friday morning, and authorities said they contributed to the pileup.