Senators Join House with Veteran Anti-Suicide Bill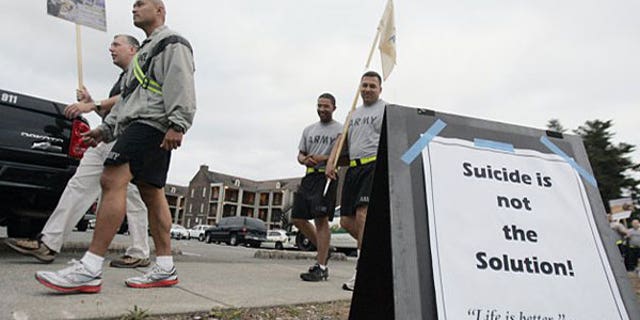 NEWYou can now listen to Fox News articles!
A bipartisan group of Senators has introduced legislation they say will combat suicide among veterans by improving and consolidating current suicide prevention programs and eliminating those considered ineffective.
The bill also aims to attract more psychiatrists to work at the Department of Veterans Affairs, make it easier for those needing mental health care to find it, and improve the exchange of anti-suicide training and best practices among the VA, Defense Department, veterans service organizations and non-profit mental health providers.
"Our nation has a long way to go to decrease the rate of suicide among our veterans and we must do much better in fulfilling our responsibilities to care for those who have risked everything on behalf of their fellow Americans," the group of Senators said in a statement released by Sen. John McCain, R-Arizona, one of the sponsors.
The Senate Veterans Affairs Committee is expected to take up the bill on Wednesday. The bill is modeled after one filed in July by Rep. Tim Walz, D-Minnesota.
Walz spokesman Tony Ufkin said the House Veterans Affairs Committee will also take up the House version on Wednesday. Both are called the Clay Hunt Suicide Prevention for American Veterans Act, named for a 28-year-old Marine veteran of the Iraq War who killed himself in March 2011.
"Rep. Walz knows that no bill will completely end veteran suicide [but this] is a step in the right direction and will improve mental health care for our veterans," Ufkin said. Walz's co-sponsors include Reps. Jeff Miller, R-Florida, chairman of the Veterans' Affairs Committee, and Tammy Duckworth, D-Illinois, an Iraq War vet and member of the House Armed Services Committee.
Hunt's death came as a particular shock to many because he had become deeply involved in suicide prevention programs.
Both the Senate and House bills, if passed, will provide additional resources for vets suffering from mental health disorders, its advocates said.
"It will ensure that existing suicide prevention programs are reviewed to determine which ones work and get rid of those that don't, improve collaboration between the Department of Veterans Affairs and [veterans groups], and provide incentives to attract more psychiatrists to treat veterans through the VA," the statement said.
The bill would try and bring in psychiatrists by providing a loan repayment program.
Co-sponsors of the Senate version are Richard Burr, R-North Carolina and ranking member of the Senate veterans committee, Richard Blumenthal, D-Connecticut, Barbara Murkowski, D-Maryland, and Joe Manchin, D-West Virginia.
-- Bryant Jordan can be reached at bryant.jordan@military.com.