School Censors Religious Words in Graduation Speech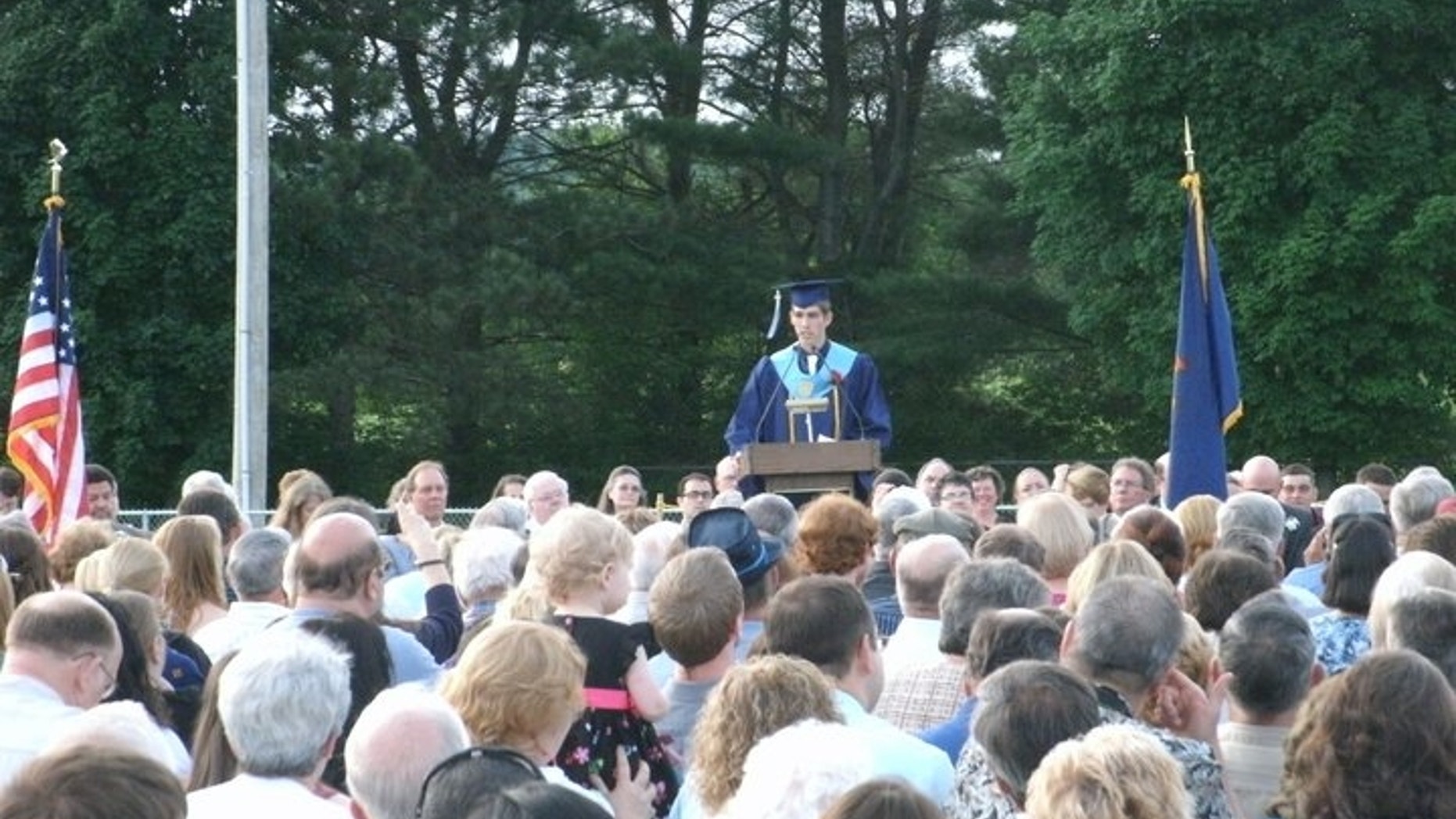 A high school valedictorian in Vermont was forbidden by school administers from delivering nearly half of his graduation speech in which he discussed how Jesus had changed his life.
"I was just sharing a story about my life and how it was changed," said Kyle Gearwar, the valedictorian at Fair Haven Union High School. "And as an American and as a valedictorian I felt that I should have been able to do that."
Gearwar, 18, said he had submitted his speech to the principal and the following day he was summoned to the office.
"They told me my speech was going to be a problem – that the school wouldn't allow me to deliver the speech and they would prevent me from giving the speech if it came down to it," Gearwar told Fox News Radio.
He said the principal told him to remove anything that "had to do with religion, God, talking about how He can help you. The thing that actually changed me, I couldn't talk about."
"You can burn a flag but we're not able to speak about God," he said. "I just don't agree with that."
Brett Blanchard, the principal at Fair Haven Union High School, defended the censorship and said public school must be careful about allowing some to talk about their religion at a school-sanctioned event.
"We are absolutely strong supporters of free speech," Blanchard told Fox News Radio. "The federal law limits the kind of religious speech that's permitted at a commencement at a public high school."
The issue was whether Gearwar's speech was a personal testimony of how Jesus Christ changed his life – or if it was an act of proselytizing.
Among the many sentences that the school took offense to was this passage from Gearwar's speech:
"I have peace and can finally enjoy every moment God has given me, good or bad. I wouldn't be standing before you without the blessings God has given me through my tough situations. He is the reason I am the man I am today, made new through Jesus death on the cross."
Click here to read Kyle's full speech.
During the graduation ceremony, several audience members encouraged Gearwar to read the censored and redacted portions of his speech. The Christian teenager declined to do so, explaining that he had given his word to the principal and the assistant principal that he would abide by their decision.
"You're supposed to respect your authority," he said. "Even in the Bible it says you should respect the authorities of the land. I wasn't going to disappoint these men."
That decision struck a chord with Blanchard.
"He stuck to his word and his agreement," Blanchard said. "I think it speaks highly."
Gearwar said he has nothing but respect for Blanchard and the school's assistant principal.
"They were very nice and they are awesome people and they were just doing what they were told to do," he said.
The censorship of Gearwar's speech was also the subject of an editorial by the Burlington Free Press, chastising school administrators for "playing it safe."
"The school's decision says much about how uncomfortable we all have become about discussing religion publicly," the newspaper wrote. "We should be able to listen to others talk about their faith – those different from our own – without feeling threatened. Instead we live in a sad time when the risk of offending someone also carries the risk of being sued."
Gearwar, who will be attending the University of Connecticut, said he wrote the speech "for God's glory" and said he's been surprised by the attention it's gotten.
Principal Blanchard said he's worried "the public dialogue will be misconstrued."
"I think it is a very valid topic to discuss and I'm hoping it doesn't become misconstrued or simplified," he said. "I don't think it's a simple issue."
Regardless, the Burlington Free Press summed up their take on the controversy by crediting Gearwar.
"If anything is clear, it is that Kyle Gearwar, valedictorian of the Fair Haven Union High School class of 2011, conducted himself with honor and principle."