San Antonio trailer deaths: Driver charged after 10 die in sweltering truck
The man accused of allowing 10 people to bake to death inside a sweltering trailer Sunday was charged on Monday with a slew of offenses related to the botched smuggling mission -- and if convicted, he could face the death penalty.
Federal authorities charged the alleged driver of the tractor-trailer, James Mathew Bradley Jr., 60, of Clearwater, Fla., with transporting immigrants in the U.S. illegally.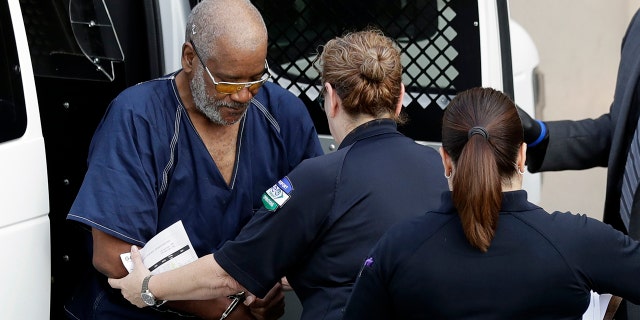 A complaint filed Monday accuses Bradley of driving a trailer packed with illegal immigrants for "commercial advantage or private financial gain," which carries the possibility of the death penalty or life in prison.
According to federal prosecutors, officials responded to the Walmart store around midnight Sunday, and found several people "standing and lying in the rear of the trailer" while Bradley was in the cab. Bradley told officers he only discovered people in the trailer "when he exited the vehicle to relieve himself," and attempted to administer aid to them.
During questioning, Bradley said he was traveling from Laredo to San Antonio, after having the tractor-trailer washed and detailed at a truck stop near Laredo, around 150 miles away, officials said. Bradley told authorities he was taking the trailer to Brownsville to deliver it to someone who had purchased it.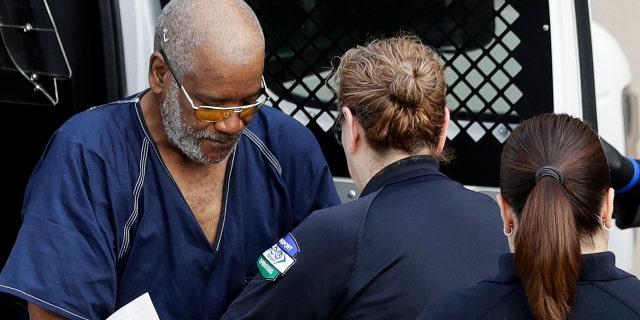 When he stopped at the Walmart, Bradley told investigators he heard banging and shaking in the trailer, and was surprised "when he was run over by 'Spanish' people and knocked to the ground," according to the complaint.
Bradley said he knew the trailer's refrigeration system did not work, and that the four vent holes probably were clogged, according to officials. In addition, Bradley said he called his wife, but he did not call 911 from the Walmart parking lot, prosecutors said.
When interviewed by officials from U.S. Immigration and Customs Enforcement, several people taken from the trailer described how they were smuggled across the Rio Grande River near Laredo at different times and as part of different groups.
"They were harbored in one or more stash locations, and on Sunday, the groups were assembled in the trailer," according to the complaint. One person told authorities his group of 24 had been in a "stash house" in Laredo for 11 days before being loaded into the trailer.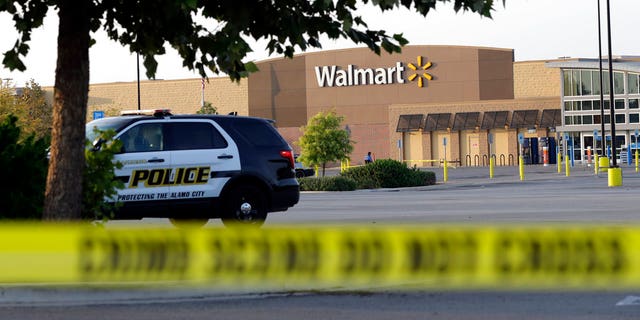 "To maximize their criminal profits, these human smugglers crammed more than 100 people into a tractor trailer in the stifling Texas summer heat resulting in ten dead and 29 others hospitalized," Acting ICE Director Thomas Homan said in a statement.
A survivor of the trip told the Associated Press that he lost consciousness because he was dehydrated and sweating profusely. He said when he woke up, he was on a San Antonio hospital bed.
Adan Lalravega, 27, said people cried and pleaded for water and that he heard children' voices whimper in the desperate humanity. He said he was told by smugglers, who charged him $5,500 for the trip, that he'd be riding in air conditioning. He and his six friends were picked up in a safe house in Laredo, Texas.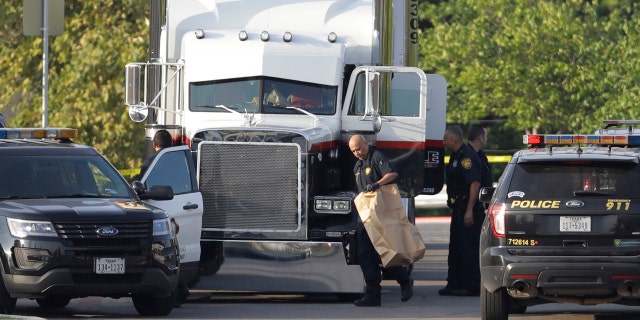 The trip from Laredo to San Antonio is about two hours and Lalravega says he and his friends got in the trailer between 10 and 11 p.m. He says he never saw the truck driver and was never offered water.
Officials feared the death toll could still rise, because nearly 20 others rescued from the truck were in dire condition, many suffering from extreme dehydration and heatstroke.
Spokesman Don Finley at University Hospital in San Antonio says two of the seven patients who arrived there Sunday have been discharged. Finley says four men and one woman remain at the hospital, in conditions ranging from good to critical. At the San Antonio Military Medical Center on the Fort Sam Houston Army post, spokeswoman Elaine Sanchez says all five patients admitted to the hospital Sunday remain in treatment.
Spokeswoman Patti Tanner says none of the patients admitted to various Baptist Health System hospitals in San Antonio have been discharged.
TEXAS' LIEUTENANT GOVERNOR BLAMES TRUCK DEATHS ON SANCTUARY CITIES THAT 'ENABLE HUMAN SMUGGLERS'
Mexican nationals were among both the survivors and the dead, Mexican Consul General in San Antonio Reyna Torres said. Torres did not give a specific number, but said the consulate has been in contact with relatives both in Mexico and in the U.S.
Guatemala's foreign ministry, meanwhile, said at least two Guatemalans were on the abandoned rig. The two male survivors told Guatemalan Consulate officials they crossed the border by foot at Laredo and boarded the tractor-trailer, according to Tekandi Paniagua, communications director for the foreign ministry. The pair told officials their final destination was Houston, Paniagua added.
"This tragedy demonstrates the brutality of the network of which I often speak. These smugglers have no regard for human life and seek only profits," Secretary of Homeland Security John Kelly said in a statement Sunday. Walmart released a brief statement Sunday saying it was doing what it could to help investigators.
The U. S. Immigration and Customs Enforcement's Homeland Security Investigations was leading the investigation, with support from the San Antonio Police Department and San Antonio Fire Department.
A store employee first alerted police after being approached by someone from the truck who was asking for water early Sunday.
"They were very hot to the touch. So these people were in this trailer without any signs of any type of water," San Antonio Fire Chief Charles Hood said in a news conference. "It was a mass casualty situation for us."
The National Weather Service said the temperature in San Antonio hit 101 degrees just before 5 p.m. Saturday and didn't dip below 90 degrees until after 10 p.m.
The Border Patrol has reported at least four truck seizures this month in and around Laredo, Texas. On July 7, agents found 72 people crammed into a truck with no means of escape, the agency said. They were from Mexico, Ecuador, Guatemala and El Salvador.
Fox News' Jake Gibson and the Associated Press contributed to this report.