Sabbatical program may help US military keep women in the ranks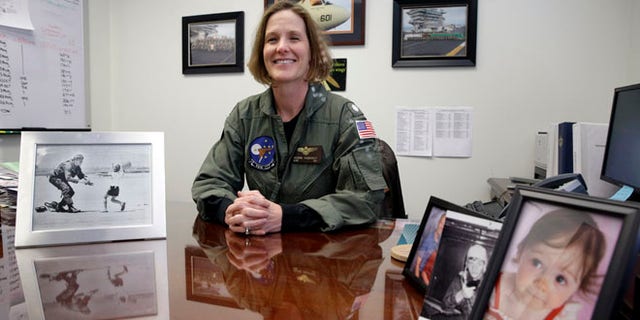 CAMP LEJEUNE, N.C. – Navy Cmdr. Valerie Overstreet wanted to start a family. But her job as a Navy pilot and the fact that she and her husband, also a naval officer, were stationed in different parts of the country made it complicated.
So she decided to take advantage of a fledgling Navy program that allowed her to take a year off and return to duty without risking her career or future commands.
Now, three years later, she's got a 2-year-old daughter and a 9-month old son, she's back at work at the U.S. Naval Academy in Annapolis, Md., and her promotion to captain has been confirmed.
For Overstreet, the year off gave her precious time to have her daughter and get started on her master's degree. The Navy retains an officer it considers promising without requiring her to sacrifice her family life.
Across the military services, leaders are experimenting with programs that will give valued officers and enlisted troops, men and women, the incentive to stay. Also, as the Pentagon moves to bring women into more jobs closer to the combat zone, military officials believe it is crucial to keep midcareer female officers in the services so they can mentor those on the front lines.
"We have innovative things we're trying to retain women in the service," said Vice Adm. Mark Ferguson, vice chief of naval operations. "It's about creating the personnel policies that enable someone to say it's Navy and family, instead of Navy or family."
At Camp Lejeune, the Bergstrom sisters are part of a Marine family tradition.
Identical twins Katherine and Sarah watched their older sister Rachel join the Marine Corps' ROTC at their high school in Cumming, Ga. Rachel, now working as an administrative officer in the Pentagon, was intrigued when she saw ROTC members playing soccer at school, and she decided to join the program.
"She's a very aggressive young lady," said retired Marine Maj. Mac Kelly, who runs the program at North Forsyth High School. "You could take her to a formal dance or to a knife fight and she'd know how to act in both situations."
The twins eventually followed their sister into the ROTC. Both went on to the Naval Academy and then into combat, with Sarah heading to Afghanistan for a one-year tour and Katherine to the Mideast. At one point, Sarah and Rachel were deployed at the same time to Camp Leatherneck in Helmand province.
Standing in the early morning sun outside the headquarters for II Marine Expeditionary Force, Sarah and Katherine recently acknowledged that as women in the Marine Corps, they stand out a bit, and the scrutiny can be more intense.
"You do have to be more aware that you have a little bit higher visibility, so be more within standards, and ensure that you are being strict with regulations as every Marine should," said Katherine, who deployed to the Middle East on the USS Iwo Jima with the 24th Marine Expeditionary Unit. "There is a bit more pressure on females, women in general, because we do have family issues. We're just more prone to that."
That's why, she said, there aren't as many women in the higher ranks. In fact, she was facing that very dilemma: family or the Marine Corps.
In October, Katherine left the service and moved from Camp Lejeune to California to be with her fiance. It was a difficult decision, but in the end, she said, she chose stability.
"For women to have a family and a career, it's just extremely difficult. And, being in the military, it is extra sacrifice, you have deployments, you have workups, and it just makes it that much more challenging," she said. "The Marine Corps is a lifestyle, it's not a job. You dress it, you eat it, you breathe it, you live it. For me, I want to focus on getting married."
So far, Sarah has chosen to stay in. "I love being a Marine, I love the people I work with," she said. But not long ago, Rachel said she also is weighing similar issues.
It's not an uncommon dilemma. More often than men in the military, women choose their family over service.
The sabbatical program is one way of encouraging women to stay, said Ferguson, and Army leaders agree.
Lt. Gen. Howard B. Bromberg, the Army's deputy chief of staff, said the program is under review and has not yet been approved by the Army secretary. A decision is expected early in the year, and if approved, the program would start out small.
It will give men and women "an intermission period to meet their personal needs," said Bromberg. He said a woman who decides to have a family would be able to stay home with the child or someone else might need time to take care of an ailing parent.
"We want to explore it, and see if we can help out those who need help and may be of the type of person who wants to come back and serve," he said. "It will be open to everybody, but certainly, the example of a female soldier or couple that have a child and want to have time at home — that's the goal as well."
That plan worked for Overstreet, even though she was skeptical at first.
"I thought, why in the world would I leave for a year? It didn't make sense to me. But, when I sat down and thought about it, it was such an opportunity to be able to concentrate on my health and be at home. It was a blessing."
Three months into the sabbatical she got pregnant, and her daughter was 3-months-old when she went back to work at the academy.
"I think it's a fantastic program for people who are on the bubble ... People who are wondering if they can do both," she said. "If they want to concentrate on family or just want to concentrate on going to school — they don't have to make that choice. They can actually take the year to three years off and concentrate on that and know that their job is there and you can come back in right where you left off. And you're not at risk of losing the career that you have worked so hard at."