Rutgers webcam spying case raises issues about deportation, experts say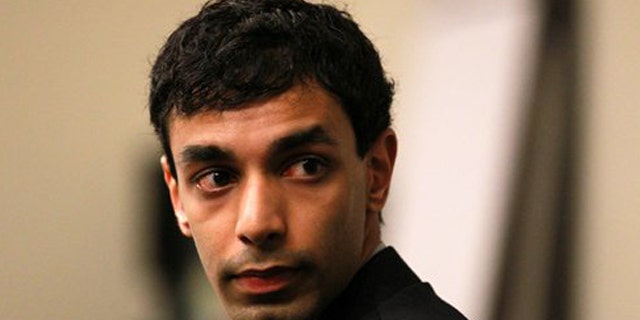 NEW BRUNSWICK, N.J. – Dharun Ravi, the 20-year-old convicted of hate crimes in the Rutgers University webcam spying case, faces the possibility of deportation in addition to multiple years in prison when he is sentenced Monday.
But legal experts say Ravi's situation is far from an "open-and-shut" deportation case, and that the government may not even have the power to remove him from the US due to the complex and novel legal issues surrounding his conviction.
Jurors found the former Rutgers student guilty on several counts of bias intimidation -- a hate crime -- in addition to invasion of privacy and hindering his police investigation after determining he was motivated by a dislike of homosexuals when he streamed a romantic encounter between his roommate, Tyler Clementi, and an older man on the internet.
Clementi, 18, committed suicide by jumping off the George Washington Bridge after learning of Ravi's spying in September 2010. Ravi was not charged over his death.
Ravi, who was born in India, could face deportation over his conviction because he never completed requirements to obtain US citizenship despite spending most of his life in America.
Federal authorities have two possible grounds on which to deport Ravi: for committing a crime of moral turpitude or an aggravated felony.
[pullquote]
Deportation law expert Norton Tooby told NewsCore that despite its judgmental connotation, a hate crime conviction might not qualify as a crime of moral turpitude.
The Immigration and Nationality Act (INA) does not define the term moral turpitude, but the Justice Department's official definition says it is a crime that involves "both reprehensible conduct and some degree of [intent], whether specific intent, deliberateness, willfulness, or recklessness."
Tooby said that a court might view a hate crime as simply a sentencing enhancement for an underlying crime. And if the underlying crime is not a moral turpitude offense, then, according to Tooby, the hate crime conviction should not qualify the criminal for deportation.
"I don't see a hate crime jacking up a non-moral turpitude crime and turning it into a crime of moral turpitude," Tooby said.
The underlying crime in Ravi's case was invasion of privacy.
Without commenting on the specifics of Ravi's case, Tooby said a decent argument could be made that invasion of privacy is not a crime of moral turpitude.
A crime of moral turpitude is one that is done with an evil motive, according to Tooby, as opposed to other crimes which simply prohibit specific actions.
"You could say there's nothing inherently evil by looking at someone else doing a sex act, certainly if it's consensual," Tooby said, referring to the crime of invasion of privacy. "It's only that it's without permission, that's what makes it criminal."
But even if Ravi's conviction is deemed a crime of moral turpitude, another limitation in the INA may save Ravi from removal from the country.
The INA only allows non-citizens to be deported for a crime of moral turpitude if the conviction was "committed within five years after the date of admission."
Since Ravi moved to the US as a young child, he would not appear to qualify for deportation on this ground.
But Wake Forest Law School Prof. Margaret Taylor told NewsCore there could be an added complication if Ravi traveled outside of the US at any time in the past five years.
"If he has an international travel history, the government may try to argue that that readmission into the United States counts and can trigger deportation grounds," Taylor said.
Ravi's attorney Steven Altman declined a request to be interviewed for this article and would not comment on his client's travel history.
Still, even if Ravi has not been outside of the country in the past five years, there is yet another wrinkle in the INA that the federal government could use to force him to leave the country.
The INA allows the government to deport non-citizens "convicted of two or more crimes involving moral turpitude, not arising out of a single scheme of criminal misconduct," regardless of how long they have been living in the country.
Ravi was convicted of bias intimidation for spying or attempting to spy on Clementi on two different days.
Tooby said that Ravi's situation is likely to count as multiple convictions under the INA.
"If the two instances were on different days and the person could reflect on the crime, then it is not likely to fall in the single scheme exception and would trigger deportation," Tooby said.
Ravi's tampering with evidence convictions could also cause him to be deported.
NYU Law Professor Adam Cox told NewsCore that courts often define crimes of moral turpitude as those "with an intent to defraud," and tampering with evidence could plausibly meet that standard.
Taylor said the convictions for hindering the investigation could have an even harsher effect on Ravi if they are classified as being an aggravated felony.
Aggravated felonies were originally defined by the INA as crimes such as murder and drug trafficking. But the list of crimes that qualify as aggravated felonies for the purpose of immigration law has grown substantially to include misdemeanors.
Taylor said that while there is not much case law on the issue, it is at least plausible for an immigration court to find that Ravi committed the aggravated felony of obstruction of justice so long as his conviction for tampering with evidence results in a sentence of at least one year.
And unlike crimes of moral turpitude, non-citizens with aggravated felony convictions cannot apply to have any deportation proceedings called off.
Middlesex County, N.J., Superior Court Judge Glenn Berman is scheduled to sentence Ravi Monday.
Prosecutors have asked for a harsh sentence, while Ravi's attorneys have argued in court filings he should only receive probation.
Ravi previously turned down a plea deal in which prosecutors offered no prison time in addition to legal assistance for any potential deportation proceedings.