Russians survey new airbase on Syria-Turkey border, US officials concerned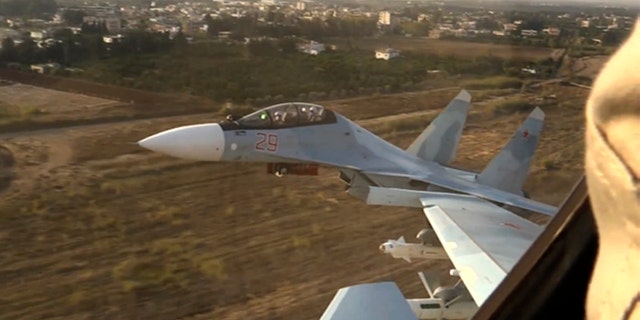 NEWYou can now listen to Fox News articles!
Russia appears to be making preparations to establish a new airbase in Syria, this time along the border with NATO-member Turkey, a senior U.S. official tells Fox News.
The move is bound to anger the Turkish government months after the downing of a Russian jet by the Turks.
A handful of Russian military personnel, including engineers, has been seen in the vicinity of a largely abandoned airfield in Qamishli, a city in northeast Syria along the border with Turkey. The area is largely controlled by Syrian Kurds, with pockets of regime-controlled territory including the airport.
Russia and Syria's Kurds have a common enemy in Turkey and make natural allies.
"This is another example of the Russians [messing] with the Turks."
Defense officials think Russia could establish another airbase and build-up similar to what occurred in September at an airport along Syria's Mediterranean coast in Latakia, an Assad regime-controlled stronghold.
"This could be Latakia all over again," said the official, speaking about the buildup of Russian forces last fall.
Days before Russian transport planes and ships arrived in September carrying thousands of Russian troops and supplies, a small group of Russian advisors and engineers visited Latakia on an apparent site survey similar to what is being seen on the Turkish border.
Eventually over 30 Russian warplanes and dozens of attack helicopters arrived in Latakia and began combat operations against Syrian rebels, some backed by the U.S., in late September.
Qamishli, the town where the new Russian military presence has been observed, is home to Syrian Kurds and Assyrians, a Christian people, but the airport is controlled by forces loyal to Syrian President Bashar al-Assad.
"This is another example of the Russians [messing] with the Turks," said the official who is carefully watching the developments.
The concern is that the potential expansion of the Russian military into northeast Syria on Turkey's border will spark new tensions in the region after a Russian Sukhoi Su-24 was downed by a Turkish F-16 in late November.
So far, there are no indications that Russia has moved any military aircraft, including jet fighters to the airport in Qamishli.
But U.S. officials worry it's only a matter of time.