Roses can't rise: FAA grounds florist's bid to deliver by drone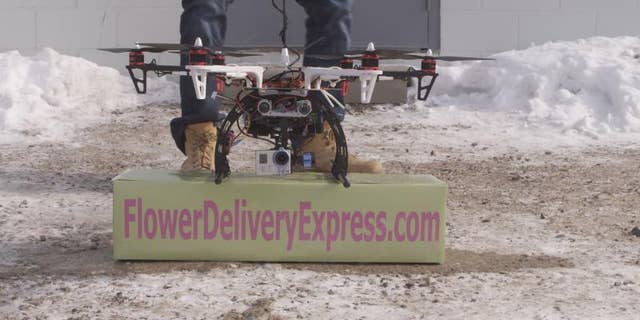 NEWYou can now listen to Fox News articles!
An online florist's plans to deliver Valentine's Day bouquets by drone have been plucked by the FAA, its top executive told FoxNews.com.
Wesley Berry, CEO of FlowerDeliveryExpress.com, said FAA officials shut down the company future testing with drones following a successful trial on Saturday, a half-mile trip from a location in Commerce, Mich. Berry said he was told commercial use of drones will only be approved on a case-by-case basis.
"We should not be using drones for commercial purposes," Berry said of the federal agency's ruling. "They let us know they were concerned about public safety and that the rules on this were not written yet. They were very polite and pleasant."
[pullquote]
Berry, who also owns Wesley Berry Flowers, a Detroit-based florist established in 1946, said he's been testing the technology "on and off for a little while" before an encouraging beta test last week. He then intended to deliver as many free roses on Valentine's Day to determine the drone system's capabilities.
So far, at least $7,000 was invested in the drone and Berry said he's unclear as to what his next move will be.
"We're going to find out," he told FoxNews.com. "I don't know that they know yet. They say that they're going to have something figured out."
Regardless of the FAA's determination, Berry said he believes delivery by drone is the wave of the near future.
"I honestly believe that whether it's six months from now or a couple of years, I'll be able to dispatch a rack of drones," he said. "There are some navigational issues to avoid, and they'll need batteries to last longer and we need to make sure that they're safe."
Berry, who employs 130 people, said he was unsure why the plan was scuttled following headlines last year by Amazon.com when CEO Jeff Bezos announced the company was testing package delivery using "octocopter" mini-drones to drop off small parcels in just 30 minutes. The "Prime Air" project still required additional safety testing and federal approval, according to Bezos, who predicted it would be functional within four to five years.
In a statement to FoxNews.com, FAA officials reiterated that commercial operations are only authorized on an individual basis.
"A commercial flight requires a certified aircraft, a licensed pilot and operating approval," the statement read. "To date, only one operation has met these criteria, using Insitu's ScanEagle, and authorization was limited to the Arctic. Anyone who wants to fly an aircraft -- manned or unmanned -- in U.S. airspace needs some level of authorization from the FAA."