Report: Terrorist Malik got US fiancée visa, with no clear evidence she met Farook in person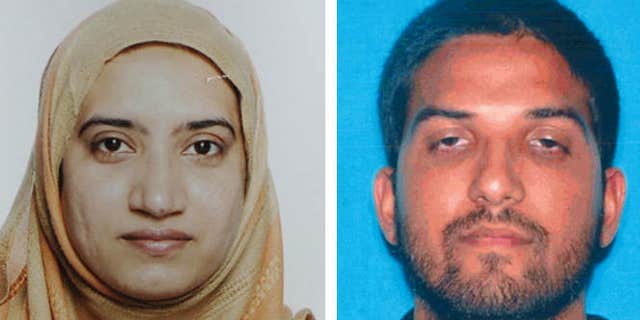 Immigration officials didn't adequately vet San Bernardino shooter Tashfeen Malik's fiancée visa application, which lacks solid proof she even met her American fiancée and co-attacker in person before being allowed into the United States, the House Judiciary Committee said Saturday.
Federal law requires foreigners applying for such a visa to meet the American fiancée at least once in person, but a Congressional Research Service contractor helping the committee says Malik's passport cannot substantiate such a meeting.
The Pakistani-born Malik and American-born husband Syed Farook fatally shot 14 people and wounded 21 others at a Dec. 2 holiday work party in San Bernardino, Calif.
"It is clear that immigration officials did not thoroughly vet her application," said committee Chairman Rep. Bob Goodlatte, R-Va. "To obtain a fiancée visa, it is required to demonstrate proof that the U.S. citizen and foreign national have met in person. However, Malik's immigration file does not show sufficient evidence for this requirement."
He also said immigration official reviewing Malik's application requested more evidence to ensure the two met in person but it was never provided and her visa was approved anyway.
Authorities say that Malik went on Facebook after the attack to pledged support to the leader of the Islamic State terror group.
Malik purportedly had been living in Pakistan and visiting family in Saudi Arabia before she passed the background check and entered the U.S. in July 2014, then marrying Farook.
Goodlatte said Malik's immigration file contains only two pieces of information on this subject: a statement by Farook that he and Malik had been together in Saudi Arabia and copies of pages from their passports, containing visas to enter the country and stamps in Arabic.
The immigration official reviewing the K-1 application requested that the stamps be translated into English but the file does not indicate this was done, Goodlatte said.
He said the contractor found Malik's passport shows a Saudi Arabia entry stamp dated approximately June 4, 2013 but couldn't make clear the exit stamp because it was partially illegible.
Farook's translated passport purportedly shows him in Saudi Arabia roughly four months later, with an entry stamp of Oct. 1, 2013, and an exit stamp on about Oct. 20, 2013.
Goodlatte said even if the couple was in Saudi Arabia at the same time, there's no evidence that they met in person.
In addition, Malik's Saudi Arabia visa was good for 60 days, which casts further doubt on claims they were in Saudi Arabia at the same time.
Last week, congressional lawmakers at three separate hearings grilled FBI Director James Comey and other Obama administration officials, demanding to know how Malik gained admittance to the U.S.
"Was she actually given an interview in the K-1 process, do we know that?" Sen. David Purdue, R-Ga., asked during a Senate Judiciary Committee hearing.
Comey replied that "the process requires" an interview, but that he didn't know if one occurred.
Malik's application purportedly also includes a false address and evidence that she had attended an Islamist school in Pakistan, which critics say forges an anti-Western view in students.