Puppy abandoned in Las Vegas airport with heartbreaking letter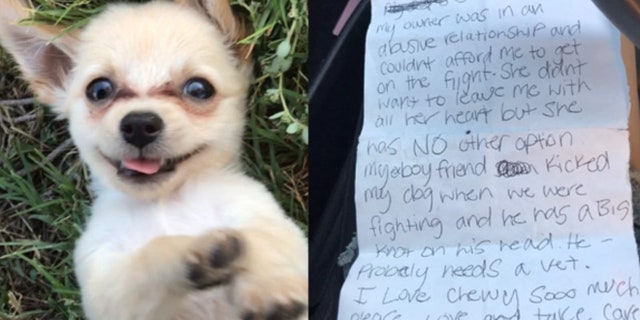 A three-month-old puppy was abandoned in a Las Vegas airport with a heartbreaking note explaining how the owner had "no other option" but to leave the miniature Chihuahua behind.
Chewy was found over the weekend in a Las Vegas International Airport bathroom with a handwritten note that said his owner was a victim of domestic abuse and could not bring her precious pet along with her.
"My owner was in an abusive relationship and couldn't afford to get me on the flight," the note read. "She didn't want to leave me with all her heart but she has no other option."
The heartbreaking letter went on to say the owner's ex-boyfriend kicked the dog and now "he has a big knot on his head."
Airport authorities gave Chewy to Connie and Millie's Dog Rescue in Las Vegas where he has received numerous offers for adoption and "tremendous interest."