Protesters gather after Los Angeles police fatally shoot man following car chase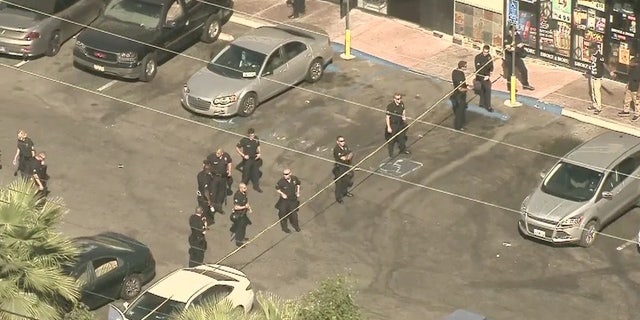 NEWYou can now listen to Fox News articles!
An angry crowd gathered in South Los Angeles Saturday after police officers shot and killed a man at the end of a car chase.
Police Sgt. Barry Montgomery said officers tried to pull over a car with paper plates, a possible sign the vehicle had been stolen. The driver refused to stop and police began a pursuit.
He said the passenger got out of the car at some point and ran into the back of a house, where he was shot. The driver fled the scene and remained on the loose.
Early Sunday morning, the Los Angeles Police Department said in a statement that it found a handgun at the scene of the shooting. The department did not provide any more information about the gun.
The shooting drew several dozen people to the scene. A small group of protesters gathered behind yellow police tape blocking the shooting scene Saturday night, shouting at officers in riot helmets.
Relatives of the dead man identified him as 18-year-old Carnell Snell Jr., and they told the Los Angeles Times he was killed on the same street where he lived.

Trenell Snell, 17, said she was outside with friends when she saw her older brother running from police. She said she started running too, and that she hit the ground when she heard gunfire.

When she got up, her brother was on the ground, handcuffed, she said.

"At the end of the day, the cops came and shot my brother," she said. "Killed my brother."

Snell's mother, Monique Morgan, told reporters she asked authorities to let her see the dead man to confirm whether he is her son, but they wouldn't allow her to do so. "He was just at my house, and we got a phone call that said the police shot him five times in the back," she said.
Police have not said how many times Snell was shot or if he was shot in the back.
Local activisit Earl Ofari Hutchinson called upon LAPD officials and the Police Commission to "conduct an intense review of department policies on the use of deadly force."
"This is a critical point in relations between the police and South L.A. residents given the rising incidences of deadly force in suspect and civilian encounters," he said.

The demonstration is the latest sparked by a series of fatal shootings of black men by police in Tulsa, Oklahoma, and Charlotte, North Carolina. This past week, an unarmed black man was fatally shot by police in the San Diego suburb of El Cajon, triggering days of angry, sometimes unruly, protests.
The Associated Press contributed to this report.
Click for more from FoxLA.com.