Pro-Trump wrestler loses scholarship after caught yelling anti-gay slur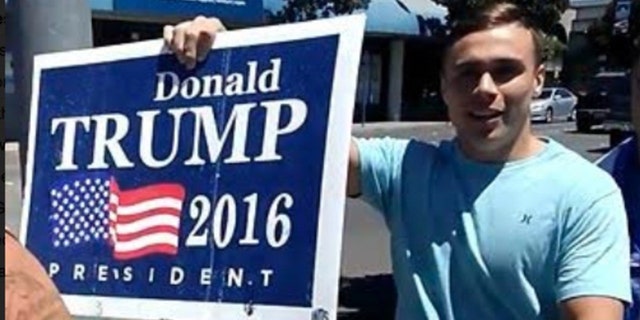 A star high school wrestler was stripped of his scholarship from California Polytechnic State University (Cal Poly) after a video captured him yelling a homophobic slur during a protest last month.
Bronson Harmon, who recently graduated from Oakdale High School, was seen in a video walking with his father, Todd Harmon, and another man carrying signs supporting President Trump during the Families Belong Together in Modesto, Calif., on June 30, The Tribune reported.
The younger Harmon was captured putting up his middle finger to a person filming and yelling "F--- you, f-----." The video also showed Todd Harmon saying, "Send their a—es back!"
Abdul Lasaing, who recorded the men during the protest, told the Tribune he was afraid Todd Harmon was looking for a fight because he was wearing gloves.
"They scared families with small children, which I find very wrong," Lasaing said. "And all the racist and homophobic slurs were very disrespectful."
TRANS WOMAN SAYS SHE WAS 'HUMILIATED' BY CVS PHARMACIST WHO REFUSED TO FILL PRESCRIPTION
Lasaing said he was not sure why Harmon yelled at him.
"I not once said anything to these guys. I was just walking," Lasaing said. "I'm not sure if I was disrespected for my skin color or my World Peace sign. I was shocked."
Cal Poly's Athletic Director Don Oberhelman told the Modesto Bee that the school "was aware of the video before the athletic department decided to rescind Harmon's scholarship."
"Harmon will not be a member of Cal Poly's wrestling team but we cannot comment on any details regarding his status as a student because of federal and state privacy laws," the school told USA Today in a statement.
Harmon, who had a 35-7 wrestling record in his junior year of high school, told the Tribune he regretted his remarks.
"I totally regret it," Harmon said. "I got caught up in the heat of the moment. I was there to peacefully protest the things that we believe, and people were harassing us, spitting on us and calling us Nazis."
GRANDFATHER ARRESTED AFTER BOY, 4, ACCIDENTALLY SHOOTS, KILLS 2-YEAR-OLD COUSIN
Harmon claimed he and his friend allegedly got involved in a physical altercation while leaving the march. He said he saw a man put a screwdriver behind the tire of his dad's car.
The man, who filed a complaint with the Modesto Police Department, claimed he was picking up a screwdriver left there. The man claimed Bronson and his friend allegedly pushed him. No charges have been filed and no arrests have been made in connection with the complaint.
Harmon said he planned to attend Cal Poly in the fall and hopes to become a mixed martial arts fighter.
"I got accepted, and they said I am welcome still," Harmon told the Tribune. "It's just that they can't be bringing all this publicity to athletics, so I can't be involved with athletics."
Lasaing said he did not expect Harmon to lose his scholarship.
"I never thought my video would get this far for him to lose his scholarship. I didn't know about his scholarship or even know who he was until recently when people starting noticing him. I do believe he needs help with his racism and homophobic hate. I am sure he's a good person just raised with hatred," he told USA Today.