Pro-Trump Maryland billboard warns liberals to 'get your guns' if impeachment occurs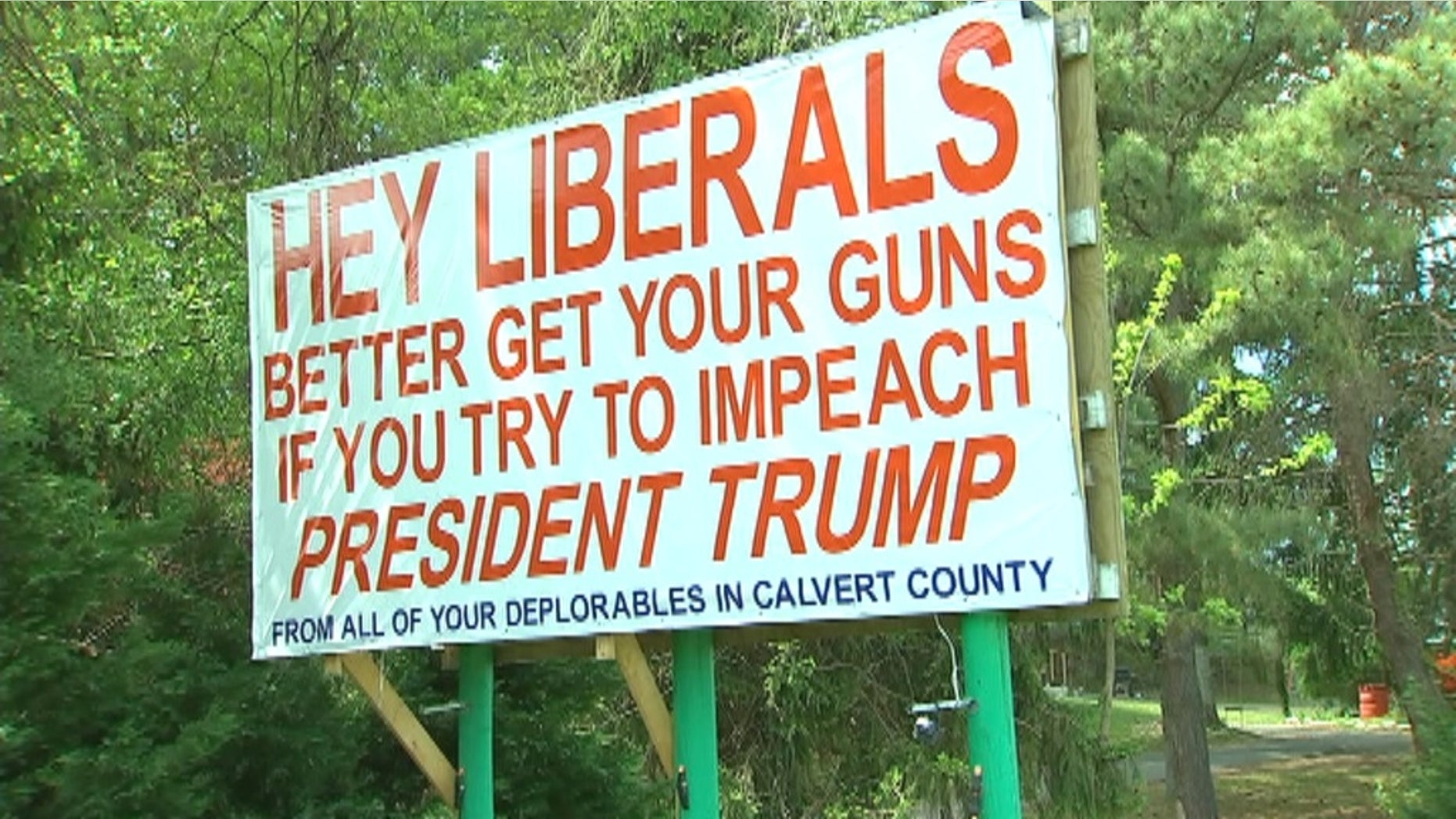 A billboard in Maryland that appeared to dare liberals to arm themselves if they tried to impeach President Trump drew viral attention -- and condemnation -- on social media Tuesday.
The sign, erected on a road near Huntingtown, stated, "Hey liberals, better get your guns if you try to impeach Trump. From all your deplorables in Calvert County," FOX 5 DC reported.
The billboard was paid for by a local man who was asked by the Calvert County Sheriff's Office to take it down due to the uproar it created. Captain Dave Payne of the Calvert Sheriff's Office said the sign had been there a few weeks and the man has taken the sign down, the Baltimore Sun reported.
CALIFORNIA DAD OF TWIN GIRLS FATALLY SHOT WHILE TAKING OUT TRASH, REPORT SAYS    
Payne said the department has received a number of messages regarding the sign saying it was "offensive."
"There's two groups that are offended. We've received messages that say it's offensive that it's up," Payne said. "While others say it's offensive that he's being pressured to take it down. We can't win. We're in the middle."
The sign has been shared on social media including on Lock Him Up, an anti-Trump Facebook page, which posted the photo. The post was shared more than 11,000 times.
Payne said this was not the first time the man put up pro-Trump messages on the billboard the past few years but this one made the biggest stir.
TEXAS ART TEACHER SUES SCHOOL DISTRICT AFTER BEING ACCUSED OF PROMOTING 'HOMOSEXUAL AGENDA'
"He changes the message every so often," Payne said. "He tends to have something controversial. This one [seems] to be the most controversial."
Some residents took offense to the sign, while others felt it was a great message.
"I love the billboard," Michelle Rinker, a resident, told WJLA. "We're conservative and there's a lot of corruption that's happened in this country and I don't think it's threatening."
Kelly Mazzella, another resident, said she was not the fan of the billboard.
"I'm a Republican but I think it's a little offensive," Mazzella said. "I think you can persuade people on the topics and not insult them."
One woman, who asked not to be identified, said her son was terrified of the sign.
"I hate that billboard," she said. "I think it's very threatening. I don't like it at all."
Rinker added that the sign's message was clear: "If you attempt to take down a good president, there's gonna be a problem."