Powerful NYC pol says she blasted Chick-fil-A as a citizen - but she used official letterhead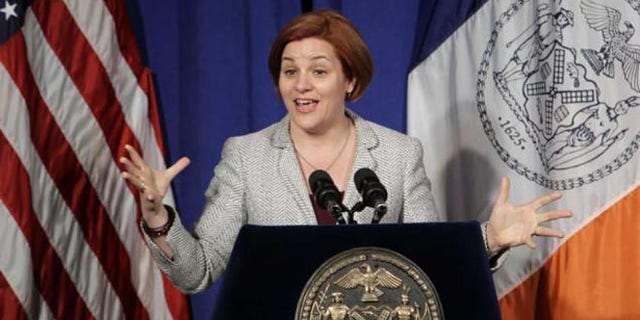 A powerful New York politician claims she was just speaking as a private citizen when she tried to run Chick-fil-A out of town, but she used her official letterhead and even invoked her position as City Council speaker to apply pressure on the embattled chicken chain.
New York City Council Speaker Christine Quinn, who has mayoral aspirations, sent a letter to New York University president John Sexton on Saturday asking the school to immediately end their contract with the fast food restaurant. The Atlanta-based company's sole New York City outlet is in the school's food court.
"I write as the Speaker of the NYC Council, and on behalf of my family. NYC is a place where we celebrate diversity. We do not believe in denigrating others. We revel in the diversity of all our citizens and their families," the letter begins.
"Let me be clear ‐‐ I do not want establishments in my city that hold such discriminatory views," Quinn, an open lesbian who recently married her longtime partner, also wrote in the letter. "We are a city that believes our diversity is our greatest strength and we will fight anything and anyone that runs counter to that."
[pullquote]
"As such I urge you to sever your relationship with the Chick‐fil‐A establishment that exists on your campus," the speaker added.
The letter has drawn the ire from others on the council.
"She can write to someone as a council member, but if she states that she is writing as the Speaker it can only be on behalf of the entire council. She has to have the majority vote of the council, and I don't recall voting on this matter," City Councilman Peter Vallone (D-Queens) told FoxNews.com. "A stance on gay marriage is in no way a forum to prevent someone form running a business in a community.
"If we allow something like this, then the next letter might be concerning someone's view on abortion."
A spokesperson for Quinn told FoxNews.com in a written statement that, while officials in other cities have said they would block Chick-fil-A through land-use means, Quinn was just expressing her own views.
"Christine Quinn was simply voicing her own opinion; she fully understands that Mr. Cathy has the right to say and donate to anything he wants. But she has the right to use her voice just as much as he does," Quinn's spokesperson added.
The speaker elaborated on her stance and seemingly backpedaled while speaking with reporters at an event in midtown Manhattan on Tuesday.
"I support businesses that are open and inclusive -- that reflect the viewpoint of New York City, the most in diverse city in the world. That said, businesses that follow our laws have a right to open here," said Quinn during the announcement of the city starting a career center for veterans. "We are asking Mr. Cathy to reconsider, open up his mind and really overcome his homophobia and stop investing his money in efforts to limit the rights of LGBT Americans. I'm raising my voice -- which can be loud at times -- but I'm never going to misuse this office in any way at all."
Whether the school will take Quinn's advice remains to be seen. In 2011, NYU's Student Senators Council considered a resolution to remove Chick-fil-A from campus but ultimately ruled that, "to ban any entity from campus for ideological reasons is, in most every case, to limit freedom of expression," and did not seek a resolution from the full University Senate.
But John Beckman, a spokesman for NYU, tells FoxNews.com in a written statement that given the recent news, the matter will be revisited by school officials.
"The University Administration will ask the University Senate to take up the issue of Chick-fil-A's status on campus again when it reconvenes this fall to make a recommendation on how to proceed," he said.
New York City Mayor Michael Bloomberg said last week that he would not follow the lead of his counterparts in Chicago, San Francisco and Boston, who all said Chick-fil-A was not welcome in their cities. Bloomberg said it was "inappropriate" for any government to decide if a business can or cannot operate in a city because of someone's political views.
Quinn also had posted a petition on Change.org last week that demands Cathy apologize for his remarks. Another petition on the website was created by an NYU student and gathered 15,000 signatures of students also demanding that the chicken chain be removed from the campus.