Pornhub to open erotic NYC shop with live-streaming bed videocam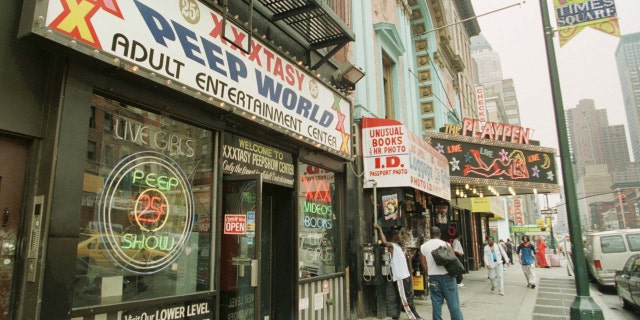 Online pornography website Pornhub is set to open a temporary real-life sex shop Friday in SoHo, offering New Yorkers aged 18 and up a chance to purchase sex toys and herbal aphrodisiacs.
The pop-up store, which will remain open until Dec. 20, will sell a variety of products through a partnership with the Museum of Sex, including streetwear, Taschen books, and sex games.
The location is "designed to simulate the look and feel of the Pornhub homepage," the company said in a statement. It will even include a bed where customers are "invited to sit and interact with the camera on a live-feed streaming onto Pornhub.com directly," according to the company.
Porn stars Dani Daniels and Asa Akira will make appearances at the shop this weekend.
"As an online brand, we've been limited to interacting with our fans on the site and through social media," Corey Price, vice president of Pornhub, said in a statement. "As we continue to increase brand awareness, and expand into new verticals, like retail, we are looking for new ways to interact with our fans."
Pornhub has briefly experimented with temporary shops in New York before. The company hosted a pop-up shop in the East Village hotdog store Crif Dogs for one day in 2015, Racked reported. The shop sold shirts with sayings such as "Zone out with your bone out."
New York has long waged a mostly successful battle against sex shops. In June, New York's Court of Appeals reinstated rules dating to 2001 barring any establishment with "live performances characterized by an emphasis on certain specified anatomical areas or specified sexual activities" as well as sexually explicit videos from all but carefully selected city zones.
The city's well-known efforts to clean up its once booming pornography industry began in the mid-1990s, with regulations barring adult businesses from operating near churches or schools and in most commercial and residential neighborhoods.
The rules shuttered many of more than 170 such establishments around the city, with then-mayor Rudy Giuliani helping rout them out.
Times Square, where porn parlors and strip clubs thrived into the 1990s amid Broadway theaters, now bears little resemblance to its old self.
But a few adult establishments remained, some because they found ways to work around a rule defining a business as adult if it devoted 40 percent or more of its floor space to the sex business.
The Associated Press contributed to this report.