Pompeo, Mattis talk bolstering Indian ties despite tensions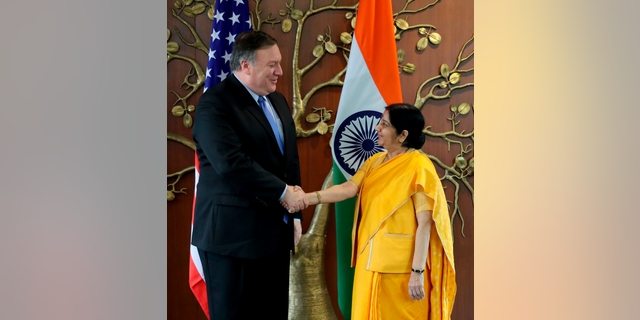 NEW DELHI – U.S. Secretary of State Mike Pompeo and Defense Secretary James Mattis held long-delayed talks Thursday with top Indian officials, looking to shore up the alliance with one of Washington's top regional partners.
The so-called "2+2" talks were scheduled to last just a few hours and focus on strategic and security topics. They came amid a series of divisive issues, including Washington's demands that India stop buying Iranian oil and a Russian air-defense system and news reports that President Donald Trump has privately mimicked the accent of Indian Prime Minister Narendra Modi.
But with trade and strategic ties growing quickly between the U.S. and India, both countries have been keen to downplay potential diplomatic troubles.
"Freedom means that at times nations don't agree with each other," Mattis told reporters on his way to India, when asked about India's plans to buy a sophisticated Russian air-defense system. "That doesn't mean we can't be partners. That doesn't mean we don't respect the sovereignty of those nations."
The India-U.S. "2+2" talks — called that because they include the top diplomatic and defense officials of both countries — have been postponed twice, the last time when Pompeo was dispatched in July for talks in North Korea.
Pompeo and India's External Affairs Minister Sushma Swaraj met separately Thursday before joining top defense officials for talks.
"India attaches the highest priority to its strategic partnership with the United States. We see that the United States is our partner of choice," Swaraj said in her opening remarks.
Pompeo said the U.S. values its relationship with India, and noted "we fully support India's rise."
Mattis and Indian Defense Minister Nirmala Sithataman also met separately before joining the other two leaders for talks.
Sitharaman in her opening remarks said that defense cooperation established itself as one of the most significant dimensions of the countries' relationship.
"We have acquired various advanced defense platforms from the U.S. We are thus partners in building defense capability in the broadest sense of the term," she said.
She also said the two countries were putting in place a framework for closer cooperation between their militaries and defense establishments. She invited U.S. companies to become active partners in India's efforts to promote local defense industry.
"Today our partnership has become one of the most consequential in the region and in the world," Mattis said.
The U.S. and India, he said, already have the foundation in their commitment to "a safe, secure prosperous and free Indo-Pacific region where sovereignty of all nations is respected, international norms are upheld, disputes are resolved peacefully and nations freely transit international waters and airspace."
He recalled Modi's words that nations should be free from impossible debt burdens caused by others.
There are sticking points, however, including the purchase of the Russian S-400 ground-to-air missile system, which could trigger U.S. sanctions on India.
But C. Raja Mohan, one of India's top foreign policy analysts and the director of the Institute of South Asian Studies at the National University of Singapore, noted that U.S.-India ties have strengthened immensely over the past couple decades, and Trump has ramped up diplomatic pressure on India's main rivals, Pakistan and China, earning him plenty of goodwill.
He presumes both countries want a way to get past the question of the Russian missile system.
"India doesn't want to wreck the relationship for the S-400," he said. He also downplayed reports in the U.S. and Indian media that Trump has mimicked Modi's accent in meetings with his top officials.
Modi, he notes, is long past the days when, as the top official in the Indian state of Gujarat, he was denied a U.S. visa because of accusations he did not do enough to quell 2002 Hindu-Muslim riots.
"This government is pragmatic," Mohan said. Modi "has seen a lot worse than people mocking his accent."
Pompeo met Wednesday in Islamabad with Pakistan's new prime minister, Imran Khan. Khan said later he was optimistic he could reset the relationship with Washington after the U.S. cut aid payments over Islamabad's alleged failure to combat the country's militants.