Police shooting that killed armed musician goes to grand jury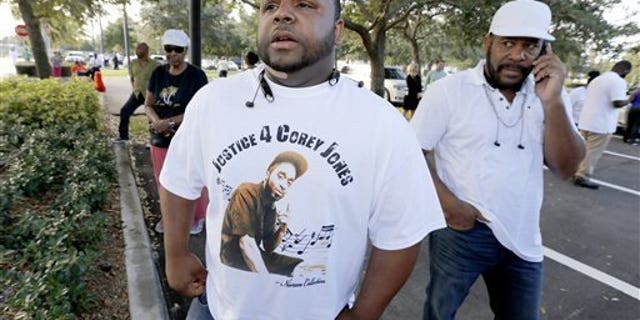 NEWYou can now listen to Fox News articles!
A grand jury will decide whether a former police officer should face charges in the fatal shooting of a legally armed musician who was waiting on the side of the road for a tow truck, a prosecutor said Wednesday.
Palm Beach County State Attorney Dave Aronberg said during a news conference that his office would continue its investigation of former Palm Beach Gardens officer Nouman Raja in the shooting death of musician Corey Jones and present the case to a grand jury.
"The goal is to do justice," Aronberg said.
Jones had left a gig before dawn Oct. 18 when his SUV broke down. He was standing nearby when Raja stopped in an unmarked car. Raja was on-duty but not in uniform.
Jones had a concealed weapons permit. He and Raja pulled their guns, and Raja shot Jones.
The department fired Raja after the shooting. Jones was black while Raja is of South Asian ancestry.
Investigators with the State Attorney's Office have already interviewed 230 people, Aronberg said. He added that his office has remained in contact with Jones' family and tried to be as thorough and transparent as possible.
Jones, a housing inspector and part-time drummer who performed with local bands, had just left a gig when his SUV broke down on an Interstate 95 off ramp in Palm Beach Gardens. A fellow band member tried unsuccessfully to jumpstart the vehicle, then left Jones, 31, to await a tow truck along a dark ramp on Interstate 95 in Palm Beach Gardens, an affluent city north of West Palm Beach.
At the time, Palm Beach Gardens Police Chief Stephen Stepp said Raja had been investigating local burglaries, stopped to check out what he thought was an abandoned vehicle and "was suddenly confronted by an armed subject."
Raja fired six shots at Jones, hitting him three times, officials said. Police later recovered a .38-caliber handgun, which Jones had bought a week earlier. Jones had a concealed weapons permit and was legally allowed to carry the gun, which his family said he kept because he was hauling expensive equipment.
Jones' family and lawyers have insisted he would not have had his gun out as Raja approached if he had identified himself as a police officer or shown a badge. He had attended The University of Akron as a marketing major and mentored with My Brother's Keeper, an organization that helps black youth.
Raja's van had no dashboard camera, and Palm Beach Gardens officers do not wear body cameras.
Jones family issued a statement after the news conference.
"While we are pleased to learn that the officer who senselessly killed our Corey will face a grand jury for his reckless act, we understand that nothing can bring back our son, brother and friend. Our goal now as a family is to ensure that this never happens to another innocent citizen," the statement said.