Police cite 127 protesters rallying against proposed closure of Chicago schools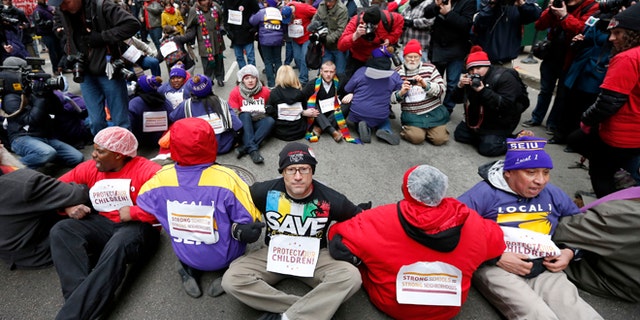 NEWYou can now listen to Fox News articles!
Police arrested more than 100 protesters who staged a sit-in in front of Chicago's city hall on Wednesday to demonstrate against the proposed closing of 54 public schools, MyFoxChicago.com reports.
The protest reportedly shut down some streets at the height of rush-hour traffic.
"This is the largest single closing in history of any city in this country," says Tom Balanoff, president of Service Employees International Union, Local 1. "This is a massive city. It's going to put our children in danger and it's not necessary!"
About 127 of the protesters, including many Chicago Public Schools employees, were cited and released.
The large crowd reportedly cheered as each protester was arrested and led away to a holding area across the street.
"I feel elated for a good cause," CPS paraprofessional Adeline Bracey said. "Someone needs to stand up to this administration and tell them we will not go quiet into the night."
"My mother was a public school teacher, my kids go to public schools, I marched with them," said a University of Illinois-Champaign professor. "I think [the] mayor is destroying the city."
Patrick Calihan collected each citation. He is an attorney hired by the CTU and SEIU to represent the protesters' in court.
"We notified the city and department of what we'd be doing and they were very, how can I say, understanding about what we have to do to exercise free speech," Calihan said.
Each protester will have to pay a fine ranging from $45 to $100 depending on what the attorney works out with the court.