5 dead, 2 hospitalized in Southern California plane crash
At least five people were killed and two others injured in Southern California Sunday after a small plane crashed into a home in a residential neighborhood, officials said.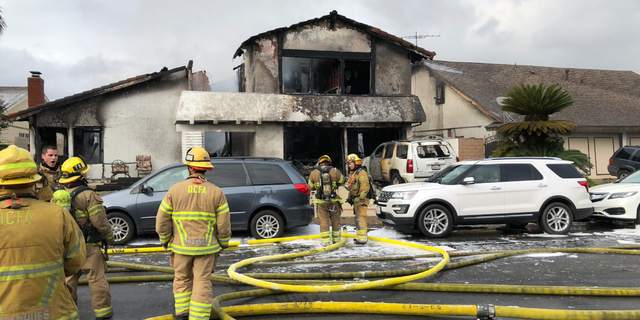 A twin-engine Cessna 414A crashed in Yorba Linda, in Orange County around 1:45 p.m. The plane had taken off from the Fullerton Municipal Airport, about a dozen miles west of the crash site, according to the Federal Aviation Administration.
SMALL PLANE CRASHES AT CALIFORNIA AIRPORT WITH NOBODY INSIDE
Orange County Sheriff's Lt. Cory Martino told reporters that a male pilot was the only person in the plane. The four occupants of the house -- two males and two females -- died from the flames, he said. No other identifying information such as names or ages was immediately released.
The two-story house burst into flames after being struck by the main cabin and one engine of the plane, sending panicked neighbors into the streets. The second engine dislodged and fell onto the street, creating a large hole in the asphalt, according to Eliott Simpson, an aviation accident investigator with the National Transportation Safety Board.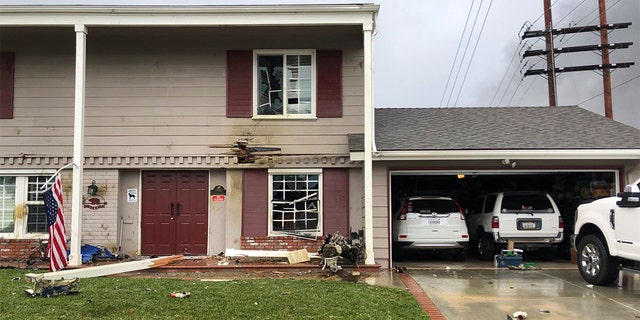 The wounded were taken to a hospital with burn injuries, said Pokey Sanchez, an assistant chief with the Orange County Fire Authority. A firefighter was also treated for a minor injury.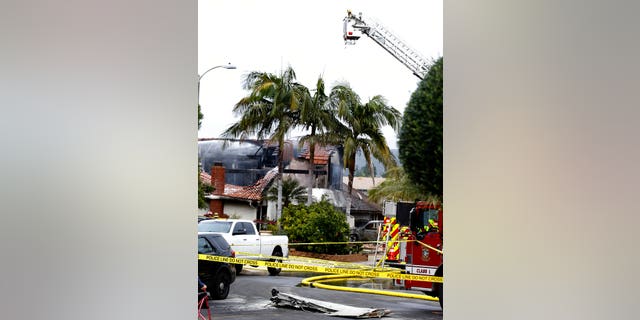 Aerial footage taken from news helicopters show plane parts, including side panels and a propeller, scattered on rooftops and driveways near the burned house. The main body of the twin-engine plane was found in the backyard of another home not far from the burned house. The fire spread to a SUV that was parked in the driveway.
CLICK HERE TO GET THE FOX NEWS APP
Rain from a winter storm helped firefighters extinguish the house fire. They planned to search the burned house in case there were additional victims, Sanchez said. The cause of the crash is being investigated by the National Transportation and Safety Board.
Fox News' Bradford Betz and The Associated Press contributed to this report.