Pandora's Box: New Orleans prof says Confederate purge would target Andrew Jackson, too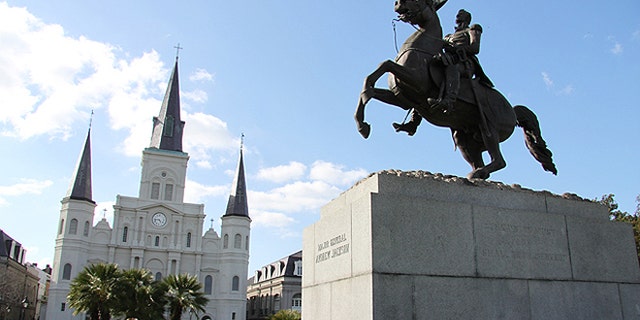 NEWYou can now listen to Fox News articles!
If New Orleans intends to purge all symbols of the Confederacy, it must take down its famous statue of Andrew Jackson, too, according to a Big Easy professor, who says his tongue-in-cheek demand is meant to show the absurdity of measuring historical figures by contemporary standards.
With rebel symbols under fire around the nation in the wake of the mass shooting in June of black worshipers at a Charleston, S.C., church by a white supremacist who embraced the stars and bars, New Orleans Mayor Mitch Landrieu has called for the removal of statues of Confederate stalwarts Robert E. Lee, Jefferson Davis and PGT Beauregard. But a local university dean says a longstanding city ordinance being invoked by Landrieu would just as easily apply to the seventh president, known as "Old Hickory" and famous for defeating the British in the War of 1812's pivotal Battle of New Orleans.
"If they [keep] going down this route, they will open Pandora's box."
The ordinance allows city officials to remove any statue or monument deemed a nuisance if, among other things, it "honors, praises, or fosters ideologies which are in conflict with the requirements of equal protection for citizens as provided by the constitution and laws of the United States." Taken at its word, and without the benefit of historical context, the ordinance would mandate the removal of the statue of Jackson on horseback that has marked Jackson Square since 1856, said Tulane University Prof. Richard Marksbury.
"I don't want to see any statues taken down," Marksbury told FoxNews.com. "I'm trying to prove a point."
Marksbury, who has called New Orleans home for more than 40 years, said he is dismayed at the calls for removal of historical statues. Jackson owned slaves, battled fiercely against Seminole Indians in Florida, ordered the Cherokee nation onto reservations and signed the Indian Removal Act, all actions that could put his statue at odds with the ordinance. But he was of a different time, and a significant historical figure, said Marksbury. Monuments may be seen as marking history, not necessarily venerating individuals, he said.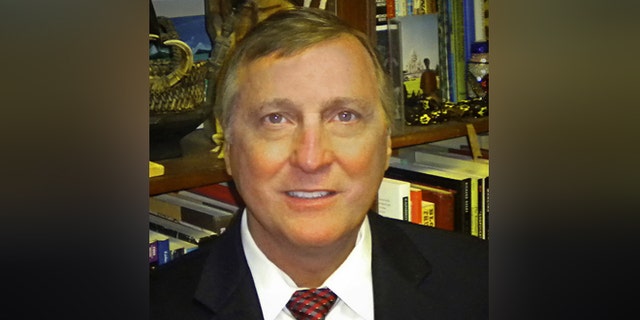 Last week, a public commission in the French Quarter voted to remove a 124-year-old obelisk monument dedicated to the White League's brief, and bloody, overthrow of a biracial Reconstruction government after the Civil War. The fate of 35-foot-high monument, which stands on the edge of the old historic district, now awaits a decision from the City Council, as do the Confederate statues.
"If they [keep] going down this route, they will open Pandora's box," Marksbury said, explaining why he proposal, first made in a letter to local newspaper The New Orleans Advocate in late July. "My position is that if you remove one, you have to remove them all."
Landrieu's office in New Orleans did not immediately return requests for comment.
Jackson died 16 years before the Civil War but made military history in the War of 1812. When New Orleans was under threat, Jackson took control of the defenses, including militia for various western states and territories. In the Battle of New Orleans in 1815, his 5,000 troops successfully fought off nearly 8,000 British troops, saving the city.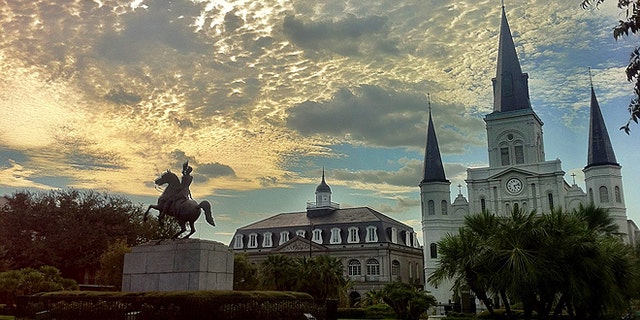 Next on the chopping block is an engraving of the Confederate flag that is part of a mural near the entrance of City Hall according to local TV station Fox8.
"Across our state and our country, there has been broad consensus that confederate flags should not fly over government buildings," Landrieu said. "Staff is currently researching the history of the etched marble at the entrance of City Hall to determine the process for removing the Confederate flag crest, as well as alternatives to represent the Civil War period of our city's history in this mural."
Orleans Parish Councilman James Gray is in favor of taking down the Confederate monuments in the city, but he does not believe the Confederate engraving should be removed.
"I think it's a real difference in having a mere historical account than having a statue that is set in a place of honor and being maintained by taxpayer dollars," Gray said to Fox8.