Outrage builds as Egypt presses for release of blind sheik behind '93 WTC attack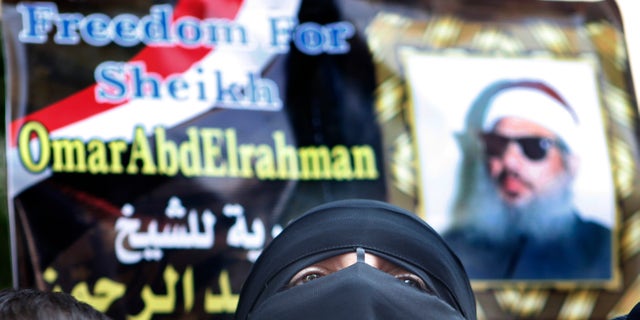 Egypt's new government is sparking growing outrage in the U.S. for its attempts to win the release of Sheik Omar Abdel Rahman, the blind cleric behind the 1993 bombing of the World Trade Center.
In Cairo, President-elect Mohamed Morsi proclaimed to hundreds of thousands of supporters in Tahir Square on Friday that he will gain the release of Rahman, who is in a federal prison in North Carolina after having been convicted of masterminding the bombing that killed six and unsuccessfully plotting to blow up other landmarks, including the United Nations.
Although a U.S. official told FoxNews.com the sheik will never be freed, the fact that Egypt's newly-installed Muslim Brotherhood government is asking has top elected officials here seething.
"It's disgusting for a head of government to state in his inaugural speech that a man who attempted to commit mass murder should be freed," Rep. Peter King, R-N.Y., told FoxNews.com. "The fact that he said this in his first speech says to me that this is from the heart, and the Muslim Brotherhood has been trying to convince us that they have changed.
[pullquote]
"We need to be more on guard than ever," King added.
Sen. Chuck Schumer, D-N.Y., weighed in, calling Morsi's speech "an insult."
"President Morsi's offensive statements are an insult to the memories of the victims of the World Trade Center bombing. ... Rest assured, (Rahman) will stay right where he belongs – in jail for the rest of his life," Schumer said.
Hani Hour Eldin -- a member of Egypt's parliament, as well as a member of the State Department-recognized terrorist organization Al-Gama'a al-Islamiyya -- recently traveled to Washington to press the case for Rahman's release but apparently was rebuffed. When asked for comment on Cairo's push for Rahman's release, State Department officials referred FoxNews.com to a prior statement by Secretary of State Hillary Clinton, in which she said Rahman guilty verdict and life sentence were "correct" and that the evidence was"clear and convincing."
Talk of releasing Rahman is "a non-issue and it's not going to happen," said one U.S. official who asked not to be identified.
But with the new government of Egypt making Rahman's freedom a priority, many are concerned about the nation's new leadership.
"I was shocked over his call for the release," former New York Mayor Rudy Giuliani told FoxNews.com. "This is a man who was going to virtually destroy New York City. I can't imagine we would even consider releasing him.
"It seems as if (Morsi) wants to ingratiate himself with extremists. That's something to consider. I always think we are better off being cautious than trusting."
Former Assistant U.S. Attorney Andrew McCarthy, who led the prosecution against Rahman in 1995, said it isn't surprising that Morsi believes he has a chance.
"Egypt is going to pitch this as a humanitarian gesture," McCarthy said. "We have an administration which just issued a visa to Hani Hour Eldin, and he is a part of the Al-Gama'a al-Islamiyya. This is an organization we use to take very seriously.
"So if you're President Morsi and you're are sitting back and seeing what's going on, what stops you from making an appeal? Morsi has pressure on him. This agenda has been there the whole time."
Rahman was convicted along with nine others of seditious conspiracy. He is being held in the Butner Federal Correctional Facility in North Carolina. He was accused of being the leader of Al-Gama'a al-Islamiyya, which was responsible for numerous violent acts including the 1997 massacre of over 60 people in Luxor, Egypt.
Although the 1993 attack failed to seriously damage the World Trade Center, it left six dead and was a precursor for the 9/11 attacks eight years later.