One dead, one injured after wanted Missouri couple gets into shootout with police
NEWYou can now listen to Fox News articles!
The multi-state crime wave of a Missouri couple likened to Bonnie and Clyde ended in the wee hours of Friday morning when police picked up their trail on a Florida highway and engaged them in a shootout that left Blake Fitzgerald dead.
Fitzgerald's female accomplice, Brittany Harper, was wounded after the pair led police on a chase from Escambia County into Santa Rosa County, according to AL.com. A shootout between the couple and authorities occurred around 1:30 a.m.
"The Escambia County Sheriff's Office can confirm Blake Fitzgerald is deceased and Brittany Harper, wounded taken into custody and transported to a local hospital," the agency said on its Facebook page.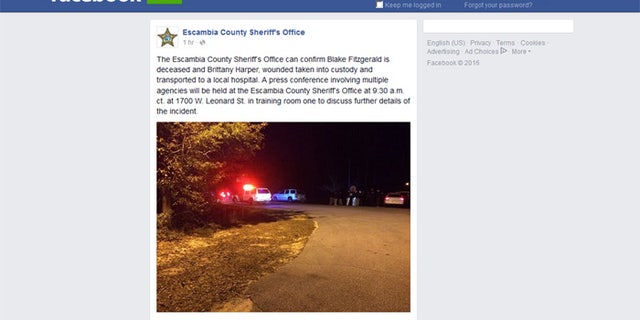 Law enforcement authorities were planning a news conference at 9:30 a.m. EST.
U.S. Marshals said Fitzgerald was pronounced dead at the scene. Harper was wounded in her legs and was taken to a local hospital, according to AL.com. Her condition was unclear.
The paper reported the chase started late Thursday near Pensacola International Airport. The couple then led authorities on a foot chase near East Pensacola Heights. Just before 1 a.m., another car chase ensued as the couple crossed Pensacola Bay into Santa Rosa County. Multiple gunshots were heard in the vicinity of Garcon Point and Sargon Lane, according to WEAR-TV.
Fitzgerald and Harper – both believed to be in their 30s – had been on the run since Sunday and are suspected of committing crimes in Missouri, Alabama, Georgia and Florida in the last week. Thursday night's chase and Friday morning's shootout are believed to have followed a Famous Footwear robbery.
Police said the couple started their crime spree in Missouri on Jan. 26. They are wanted in two separate car chases, according to Cape Girardeau Country Sheriff's Office Capt. David James in Missouri.
James said a Cadillac was stolen from a used car lot and when officers spotted the car, the driver failed to pull over and was chased until officers lost sight of them. Later that day, the couple allegedly broke into a Cape Girardeau house, ditched the Cadillac, and stole a red Chevrolet Trailblazer, which may have been used to drive to Alabama.
Investigators said the couple drove to Alabama and abducted a hotel clerk, tried to rob a McDonald's manager and briefly kidnapped a woman outside Birmingham before stealing her SUV on Sunday. Those crimes happened within a two-hour span across a 60-mile distance, according to authorities.
The couple was then involved in an armed robbery Monday night at a central Georgia gas station. Perry Police didn't give any further details of the robbery.
After the alleged gas station robbery, Fitzgerald and Harper entered Alvin's Island Tropical Department store in Destin, Fla. The couple walked around the store checking out items before meeting in the back of the store, Okaloosa County sheriff's spokeswoman Michele Nicholson said. Harper left the store while Fitzgerald put items in the basket and brought it to the cashier.
Nicholson said as the cashier began to remove the items from the basket Fitzgerald pulled out a handgun and took an undisclosed amount of cash from the register. According to AL.com, Fitzgerald and Harper were seen heading east.
Hours later, Escambia County Sheriff's Office spokeswoman Amber Southhard said the couple was suspected of robbing a Piggly Wiggly. A white, bald man was described as entering the store and escaping with more cash. Southard said the man was wearing an American Eagle sweatshirt and got in a pickup truck driven by a female in a hooded sweatshirt.
No one has been hurt in the string of robberies.
Fitzgerald and Harper are both from Joplin, Mo. The U.S. Marshals Gulf Coast Regional Task Force was asked to assist the manhunt and a $10,000 reward was offered for information leading to their arrest.
"We have no idea why they're running or where they're running from or running to,"Tuscaloosa police Lt. Kip Hart said earlier this week.
Missouri public records show Fitzgerald was no stranger to legal troubles. In 2013, he and an accomplice were charged with burglarizing a Joplin woman at knifepoint in her home and making off with her purse, jewelry, electronics and a car.
Fitzgerald entered an Alford plea — not admitting guilt but acknowledging the prosecutors had sufficient evidence for a conviction — and was sentenced in 2014 to a suspended seven-year prison term.
Fitzgerald also was sentenced in southwestern Missouri's Jasper County to a simultaneous 120-day term in a drunken-driving case. Last July, Fitzgerald pleaded guilty in a Missouri assault case and was sentenced to a suspended five-year prison term.
The Associated Press contributed to this report.