One-armed machete-wielding man arrested by Maine State Police

It was no laughing matter.
A Hollis, Maine, man allegedly wore a clown mask this week while walking around with a machete duct-taped to the spot where his arm had been amputated.
Corey Berry, 31, was first spotted in Hollis, with residents contacting police at about 6 p.m. Tuesday, but then he headed into the woods, the Portland Press-Herald reported. He was taken into custody after re-emerging in Waterboro later that same night.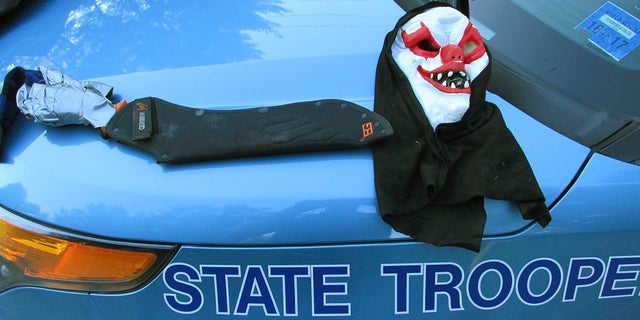 Police say Berry was intoxicated but cooperative. He told officers that he was copying previous clown sightings as a prank.
CREEPY CLOWN, SNAKE MENACING CHILDREN IN NORTH DAKOTA, POLICE SAY
Maine State Police Trooper Adam Schmidt told the paper that Berry was trying to prank a man who has children. "I asked 'How old are the other man's children?' and he said less than 7 years old," the trooper recalled.
Berry was charged with criminal threatening. He was released after posting $200 bail.
Bob Rousseau told the newspaper that Berry is "a pretty good neighbor."
"He's a hard worker, so I doubt he finds time to drink and act foolish," he added.
The Associated Press contributed to this report.