Oklahoma game wardens find hunting blind made of pot plants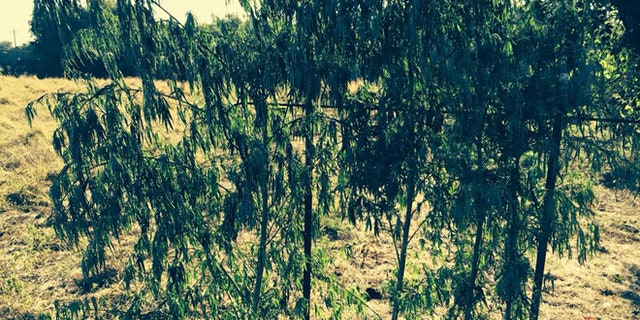 Now hunters are going to pot.
Oklahoma game wardens said they smoked out three dove poachers in a hunting blind made of marijuana, calling the unusual pot bust one of their most intriguing cases ever.
Wildlife officers for Garfield County and Major County were called last week to a field near Ringwood in response to a dove poaching complaint, and when they got there found three men in hunting gear hiding in a dove blind built out of weed.
Major County Game Warden Lt. Frank Huebert told FoxNews.com Sunday the discovery was a first for him.
"I've never found it before," he said. "And around the state no one has ever heard of a marijuana blind before."
Hubert said that after they secured the scene, he wondered why the three men would cut pot plants to build a hunting blind.
"There was better stuff right around where they were," he said.
The men were caught hunting doves two days before the dove hunting season opened Sept. 1.
Huebert told News 9 the three men never saw them approach.
"We came in from behind," he told the station. "They didn't know we were there until we were right there."
The men were issued summonses for hunting violations and could face other charges after needles, meth and an ice chest with pot were found in the home of one of them.
KFOR-TV said one of the men was taken into custody on several outstanding warrants.
The station spoke to Bill Hale, assistant chief of law enforcement for the Oklahoma Department of Wildlife and Conversation, about the case.
"I've never seen a case where they start early, have 50 extra dove, bait a field, hunt out of a marijuana blind," he said. "That actually sounds more like something you'd see in a story or a movie than it does real life."