Officials say northern Arizona wildfire 25 percent contained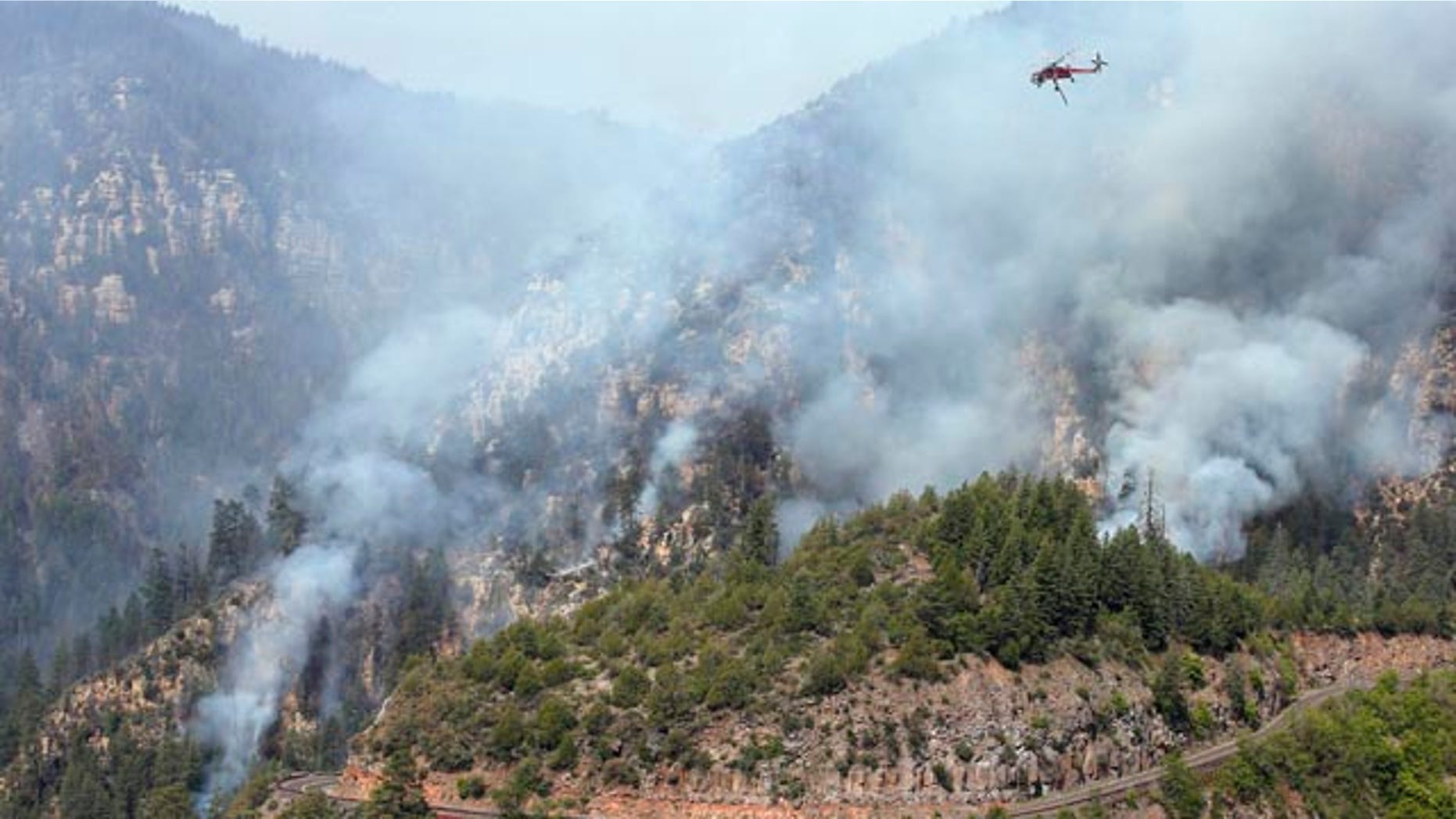 FLAGSTAFF, Ariz. – Officials said Sunday that they were slowly making progress in controlling a wildfire burning in a northern Arizona canyon that typically would draw many visitors over the Memorial Day weekend.
The fire covered 21 square miles and is 25 percent contained, up from 5 percent the day before.
"It will still be a lot of work to be done before those (containment) numbers will increase significantly," fire spokesman Rico Smith said.
The Slide Fire has grown in the last two days as crews set fires to rob the blaze of its natural forest fuels.
The human-caused fire has been burning since Tuesday around Oak Creek Canyon, a scenic recreation area along the highway between Sedona and Flagstaff that would normally be filed with tourists as Memorial Day approaches. Slide Rock State Park, one of the most-visited tourist spots in Arizona, has been closed.
The goals for fire managers are to protect the 300 structures threatened in Oak Creek Canyon, keep the fire from pushing into the communities of Forest Highlands and Kachina Village to the east, and minimize the potential for flooding.
Smith said that fire officials expect to lift a pre-evacuation warning at noon Monday for the 3,200 residents of those two communities. Mandatory evacuations will likely remain in place in Oak Creek Canyon from Slide Rock State Park to Sterling Springs Hatchery.
No homes have been destroyed.
Smith said firefighters were focused Sunday on strengthening containment lines and clearing debris on the western end. Crews planned to continue burnout operations, which mostly have been completed on the key northern flank.
Aerial drops of water and devices that ignite prescribed fires in areas officials intentionally want to burn also resumed Sunday, Smith said.
Progress on the fire will be contingent on the weather. Officials said rain and cloud cover Saturday night into Sunday morning lowered the blaze's intensity, and then burnout operations were able to continue as the humidity dropped later in the day.
An Arizona Department of Environmental Quality report said breezy winds may push smoke east of the fire Sunday and into Monday. According to the agency, people more sensitive to air quality who are in the village of Oak Creek and surrounding areas may want to reduce heavy outdoor activities.
In Sedona, officials said the surrounding air has been declared "very unhealthy" because of heavy smoke drifting south of the fire. As a result, anyone with asthma, lung disease or heart disease as well as the elderly and children should stay indoors.