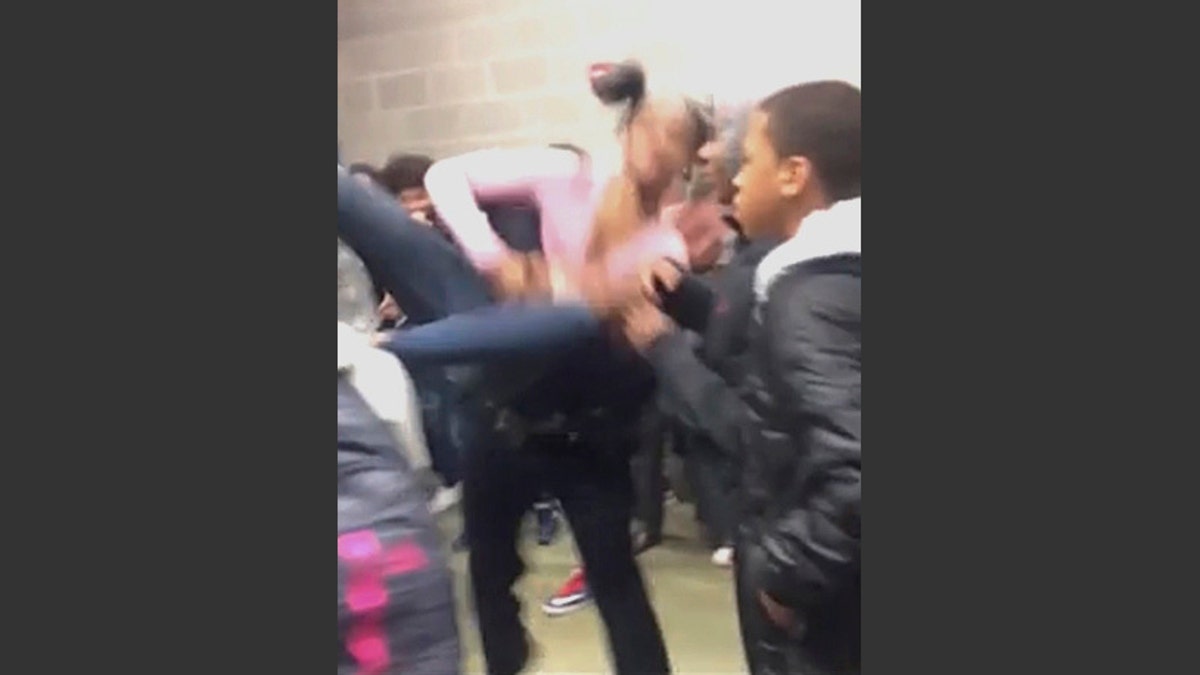 ROLESVILLE, N.C. – A school resource officer in North Carolina has been placed on leave after a brief video posted online shows him picking up and slamming a female high school student to the ground.
Authorities are investigating the eight-second video posted Tuesday on Twitter.
The video itself doesn't show what led up to or followed this scene. Rolesville Police Chief Bobby Langston, who didn't immediately return a message from The Associated Press, told other media that he's reviewing the case. A subsequent statement said Langston has asked the North Carolina State Bureau of Investigation to look into the incident.
Wake County schools spokeswoman Lisa Luten said she's working with the Rolesville Police Department to get more details. The video shows an officer, surrounded by shouting students at Rolesville High School, lifting and then dropping the girl to the floor.
Although the Twitter post doesn't say when the incident occurred, Luten said "it's fair to assume that it happened today (Tuesday)."
A statement from the town said School Resource Officer Ruben De Los Santos was placed on paid administrative leave. The officer has been assigned to the school since it opened in 2013, he said. About 2,200 students in the ninth through 12th grades attend the school.
WRAL-TV in Raleigh reports that the girl's mother, Desiree Harrison, said she was called to the high school about her other daughter and had no idea what had happened to the other girl.
"When I'm looking at this video, I'm like 'Oh, my god, this cannot be happening to my child' because I was just up at the school and they didn't even tell me what happened to her," Harrison said. "They were so busy trying to get rid of the one who was in a fight but didn't even say something about the one that was not involved in anything."
There may be other video. Mayor Frank Eagles said all Rolesville police officers received body cameras in August, and officials will review any video from the school's security cameras.
Meanwhile, the American Civil Liberties Union appealed through Twitter for information from witnesses, describing the video as an example of "disturbing use of force ... that should never be used against kids in schools."
The ACLU has defended students in other confrontations with police officers installed inside their schools, such as the case of a girl who refused to surrender her cellphone at Spring Valley High School in South Carolina in October 2015. School officials called in a sheriff's deputy who flipped her backward in her desk-chair, then tossed her across a classroom.
Another girl who recorded and protested the treatment was arrested along with the girl for "disturbing schools," but the video sparked national outrage and reviews of whether officers should be involved in school discipline that doesn't involve criminal behavior. The deputy was fired, and in November 2016, the U.S. Justice Department filed what's called a statement of interest in the ACLU's challenge of the "disturbing schools" law.
In a statement announcing the filing, Civil Rights Division chief Vanita Gupta wrote that the arbitrary enforcement of vague statutes such as South Carolina's contributes to the "school-to-prison pipeline," which unfairly affects minorities and students with disabilities.