NYPD to use secret weapon at Thanksgiving Day Parade: 'Vapor Wake' retrievers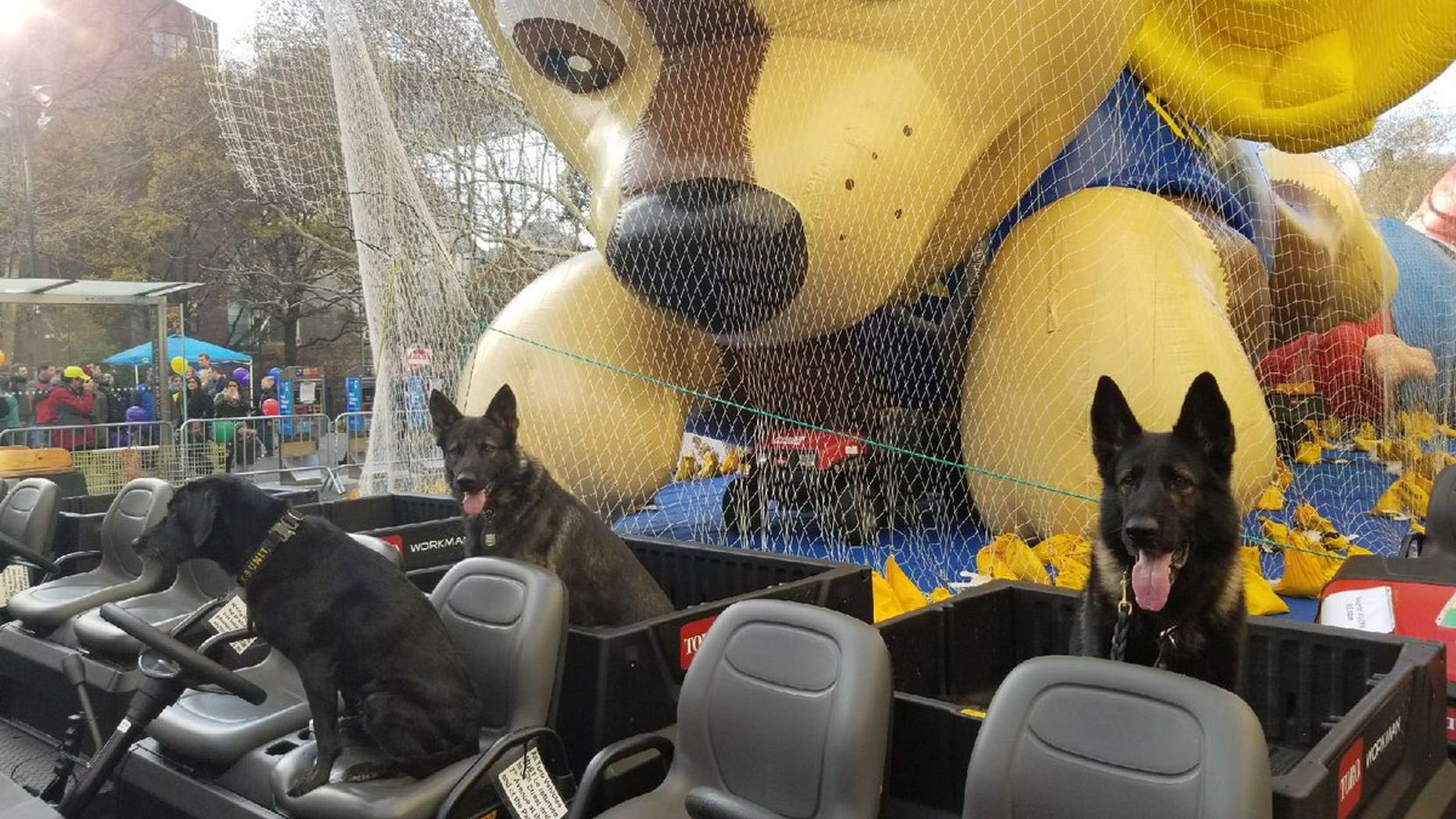 The NYPD is doubling down on a new breed of security to defend the Macy's Thanksgiving Day parade: an elite team of Labrador retrievers specially trained to detect explosives on roving targets in large crowds.
The dogs have completed the 18-month patent-pending "Vapor Wake" training program, which was developed at Auburn University's College of Veterinary Medicine.
Unlike normal bomb-sniffing dogs, which are adept at identifying explosives in stationary objects such as trash cans, Vapor Wake dogs keep their noises up and look for mobile threats.
The Labradors are dialed into the "thermal plumes left behind in a person's wake," Paul Hammond, the president of Vapor Wake training program VWK9 LLC, told Rolling Stone.
The dogs, which are trained to avoid the distractions of large crowds and loud noises typical of large events, can sense explosive particles and even firearm residue in this wake, Wired reported.
Hammond told Wired that the NYPD will deploy 14 of the Vapor Wake dogs to the parade, along with its usual contingent of traditional bomb-sniffing dogs.
"You will see our vapor wake dogs and other canine dogs on both the balloons and during the route," NYPD Chief of Patrol Terence Monahan told ABC 7.
The Thanksgiving Day Parade will be a significant stress test for the Vapor Wake dogs. Approximately one million people are expected to attend the event.
The NYPD used eight Vapor Wake dogs at the Thanksgiving Day parade last year, and police departments across the country have increasingly relied on them to screen large gatherings.
While authorities have said there is no specific and creidble threat to this year's parade, security concerns remain high.
A posting last year in an English-language magazine produced by ISIS, which took credit for the Oct. 31 bike path attack in Manhattan, mentioned the Thanksgiving parade as "an excellent target."
In addition to the dogs, officers with assault weapons and portable radiation detectors will walk among the crowds, and sharpshooters on rooftops will scan building windows and balconies for anything unusual, police said. Sand-filled sanitation trucks will also be deployed for the event.
The 91st annual parade begins at 9 a.m. and will be broadcast live on NBC.
The Associated Press contributed to this report.