Notorious Russian mobster says he just wants to go home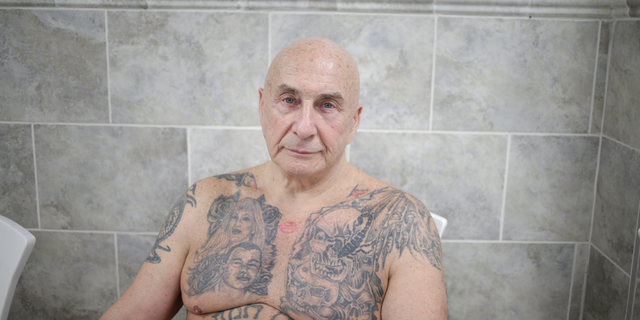 NEW YORK – New York's most notorious living Russian mobster just wants to go back to the motherland.
Once flush from heroin trafficking, tax fraud schemes and other criminal enterprises, Boris Nayfeld is now 70, fresh out of prison for the third time, divorced and broke. And he is left with few job prospects in his adopted country, at least those in line with his experiences.
"I can't do nothing," Nayfeld griped in a thick Russian accent between shots of vodka at a restaurant a few blocks north of Brooklyn's Brighton Beach neighborhood, which has been a haven for immigrants from the former Soviet Union since the 1970s. "Give me a chance to start a new life."
Nayfeld, who still sports the shaved head, piercing eyes and tattooed, burly physique that made him an intimidating figure in the city's Russian-speaking neighborhoods for decades, told The Associated Press he longs to move back to a homeland where his skill set connecting businesspeople of all stripes will yield better dividends.
But for now he is not allowed to leave, still facing three years' probation from his latest prison term, which ended in October, a two-year stint for his role in a murder-for-hire plot that morphed into an extortion attempt.
"I lost everything," Nayfeld grumbled over a multi-course meal capped with a meringue dessert called the Pavlova. "I lost job, I lost my time for stay in prison. I lost my wife. This is enough punish for me."
Living straight is a new experience for Nayfeld, who first came to the U.S. from Belarus in the late 1970s with a wave of Jewish emigres from the former Soviet Union who said they were fleeing religious persecution. But by his own admission, Nayfeld got into crime as soon as he arrived to the U.S.
Over his career, Nayfeld, also known as Biba, has been convicted of fraud, tobacco smuggling and shipping heroin stashed in TVs from Thailand via Poland. He has publicly threatened to kill rivals and escaped one attempt on his life when a bomb placed under his car failed to detonate.
In 1986, Nayfeld was shot in the hand when gunmen with automatic weapons burst into an office where he ran a lucrative gasoline tax-skimming scheme, killing a friend and fellow criminal named Elia Zeltzer, after whom his son, Eli, is now named. And he was at the scene a year earlier when the feared Russian godfather Evsei Agron was assassinated.
Nayfeld, who was dubbed an "organizer, enforcer and narcotics distributor" for the Russian mafia in a 1997 U.S. Customs intelligence report, said he has no regrets about his life of crime.
"Never. No. When I'm born again, I do it the same," he said.
At his sentencing last July, an assistant U.S. attorney told a federal judge that while Nayfeld has "for most of his adult life been in Russian organized crime," and effectively traded on his reputation to extract payment from a wealthy Russian-born shipping magnate going through a bitter divorce, he's not actually that scary anymore.
"And so I think perhaps we are at a moment where the reinforcing cycle of the myth of Boris Nayfeld has probably reached its end," said the prosecutor, Andrew Thomas.
That remains to be seen, said Judge Katherine Forrest, who imposed the lighter sentence with "some discomfort" based on the government's recommendation, according to a transcript of the proceeding.
For his part, the burly Nayfeld said he is determined not to return to prison. Getting by on a $750-a-month Social Security check, he said he is avoiding most of the locations where former associates and criminals from a younger generation of Russians gather — except, that is, for the bathhouse.
He has decided to once again trade in on his reputation, shopping his life rights to production companies considering a reality TV show featuring past players from the Russian criminal underworld, according to his son, Eli Kiperman.
In many ways, the Brooklyn that Nayfeld has returned to doesn't resemble the rough-and-tumble streets he once roamed, when crime, especially violent crime, among Russian immigrants in New York hit historic highs in the early 1990s. Back then, warring outfits of Russian crooks littered the streets with bodies.
Still, said Seva Kaplan, a Russia-born radio host who struck up an unlikely friendship with Nayfeld years after the now-aging gangster threatened to kill him at the request of a mutual acquaintance, Russian criminals today run a range of enterprises throughout New York, including moneymaking Medicaid and credit card fraud rings, as well as traditional protection rackets, gambling and prostitution operations.
After the infamous mob boss Agron was killed, Nayfeld served as a bodyguard and chauffer for the next don of the Russian mob, Marat Balagula.
Balagula maintained an office at the El Caribe Country Club, a Brooklyn catering hall and event space owned by the uncle of President Donald Trump's longtime personal lawyer, Michael Cohen.
The uncle, Dr. Morton Levine, said that all his nieces and nephews have an ownership in the company, but that Cohen "gave up his stake," after Trump was elected.
Nayfeld is a Trump supporter, and believes the special counsel investigation into the Trump campaign's contact with Russia, and the nonstop news coverage about it, is over the top and counterproductive to U.S.-Russian relations.
Trump "is a businessman, he don't care who give him money for project," Nayfeld said. "I'm the same."