Northern California wildfire death toll at 23, official says
Pictures and videos show the devastation wildfires have brought to the state of California this week, forcing thousands of residents to flee the destruction.
At least 23 fatalities have now been attributed to the sprawling blaze burning in Northern California, the Butte County Sheriff said Saturday, after another 14 bodies were found. Some of the deceased individuals were discovered in cars and houses, he added.
Officials said the Camp Fire that began burning in Paradise, California, on Thursday has destroyed more than 6,700 buildings, mostly homes, making it California's most destructive wildfire since record-keeping began. The fire has grown to 156 square miles, devastating all of Paradise. ABC 10 reported evacuees were turned away from shelters on Thursday night after they were filled to capacity. The fire was said to be 20 percent contained.
Pacific Gas & Electric Co. (PG&E), the utility company that provides much of the state with natural gas and electricity, told state regulators Friday that it would cooperate with investigators into the cause of wildfire - dubbed the Camp Fire - in the northern part of the state.
The company said one of its electrical transmission lines in Butte County experienced a problem at 6:15 a.m. Thursday, and Cal Fire (California Department of Forestry and Fire Protection) officials said the blaze began several minutes later.
In Southern California, wildfires were also burning. Officials announced two fatalities from the pair of wildfires burning north and west of downtown Los Angeles -- bringing the statewide wildfire death toll to 25 in all.
The Hill and Woolsey Fires in Southern California have prompted evacuation orders for more than 250,000 people, including the entire city of Malibu, which is home to some of Hollywood's biggest celebrities. Celebrities who had to flee include Kim Kardashian, Alyssa Milano, Lady Gaga and Rainn Wilson.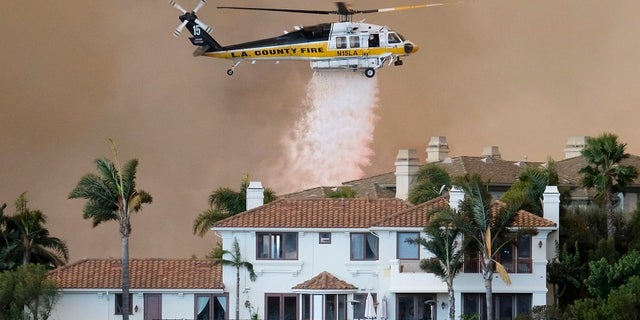 TRUMP THREATENS TO WITHHOLD CALIFORNIA FIRE AID, CITING STATE'S 'GROSS MISMANAGEMENT' OF FORESTS
Firefighters hoped a narrow window of calm Saturday would give them a chance to block the wildfires in Southern California. Officials have said 150 homes had burned, and the number would rise. The lull Saturday could give firefighters a chance to control the edges of the blazes and to swap fire crews, replacing firefighters who had worked for two days without rest, Los Angeles County Fire Chief Daryl Osby said. However, the Woolsey Fire grew to more than 70,000 acres. The fire is 0 percent contained.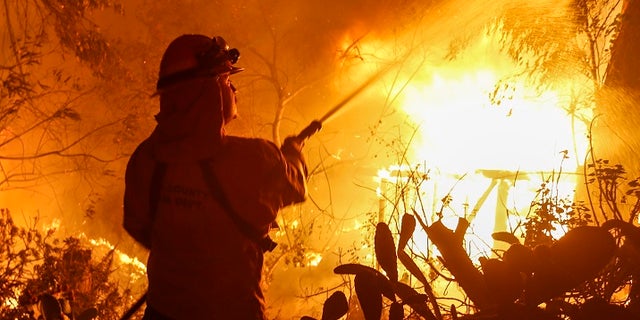 President Trump issued an emergency declaration providing federal funding to help firefighters battling the wildfires across California. However, just hours later Trump threatened to withhold the federal payments – citing the state's "gross mismanagement" of its forests.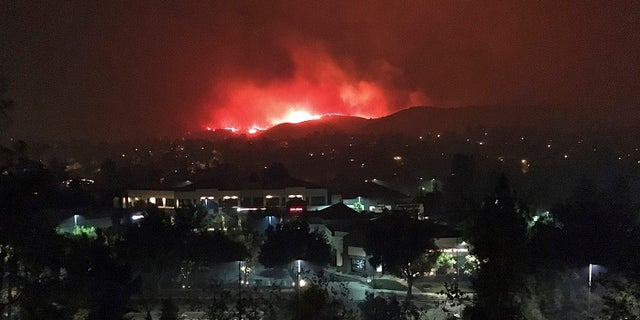 Tweeting from Paris early Saturday, Trump wrote that "there is no reason for these massive, deadly and costly fires in California." He added that "billions of dollars are given each year, with so many lives lost, all because of gross mismanagement of the forests. Remedy now, or no more Fed payments!"
TEEN CENTER THAT SHELTERED THOUSAND OAKS SHOOTING VICTIMS NOW AIDING WOOLSEY WILDFIRE EVACUEES
To help victims of the wildfires, you can donate to the Hill Fire/Woolsey Fire Sudden and Urgent Needs Effort Fund set up by the Ventura County Community Foundation. The County of Los Angeles Department of Animal Care and Control has also asked for donations to help shelter animals.
Fox News' Elizabeth Zwirz and The Associated Press contributed to this report.