North Carolina City Votes to Allow Christian Flag to Fly Again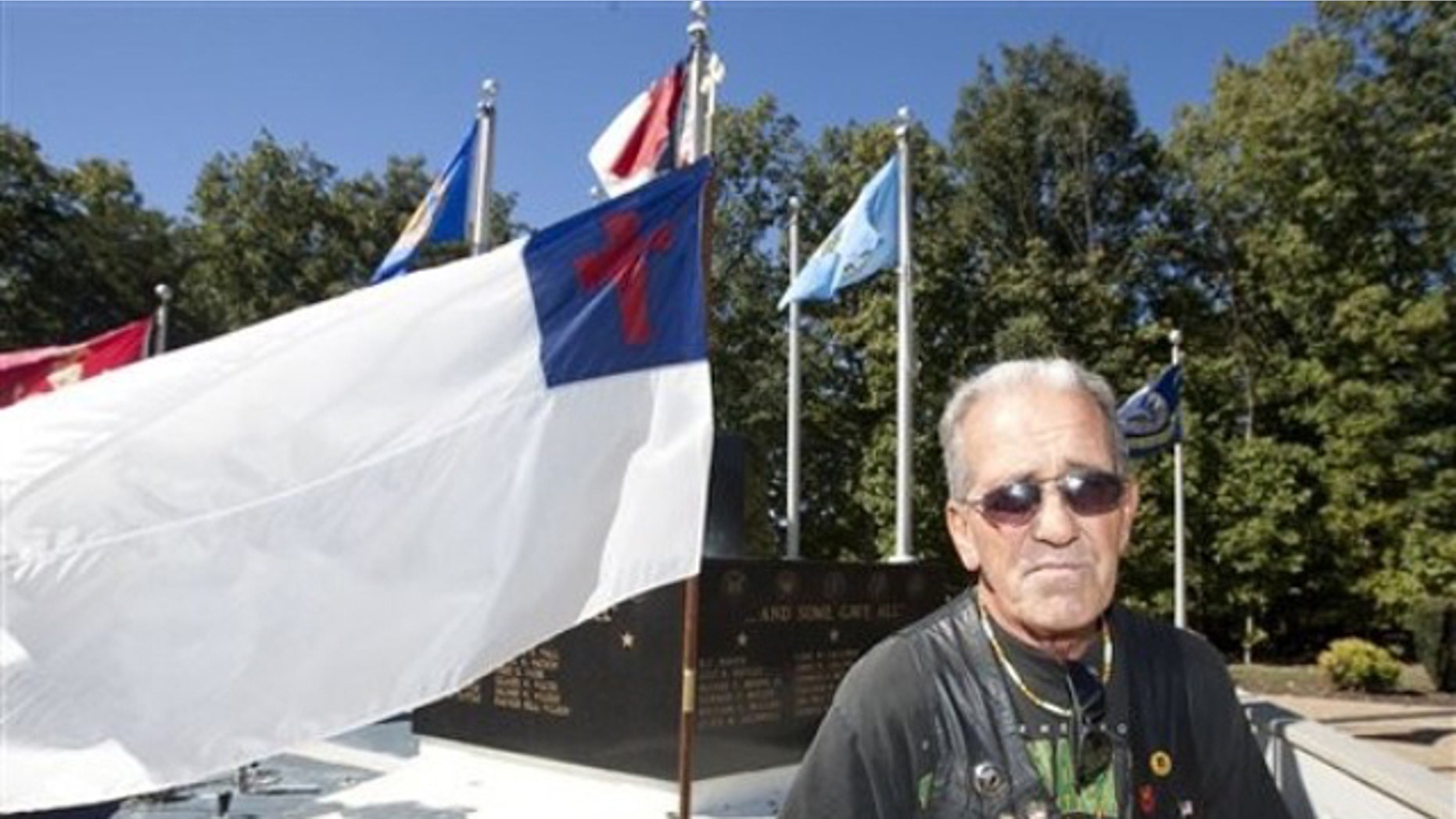 City officials in King, a small North Carolina community, have voted to allow a Christian flag to fly at a veterans memorial after an earlier decision to remove it amid concerns of an expensive First Amendment lawsuit.
The King City Council voted 4-0 Monday night to develop a policy allowing religious flags recognized by the U.S. military to fly in a limited display, the Winston-Salem Journal reported.
The move won overwhelming support from council members and residents who packed the council's chambers. Many said that city officials should have immediately returned the flag to the memorial after it voted 3-1 in September to take down the flag, the Journal reported.
The fight over the flag sparked a holy war of controversy after a resident and Afghanistan war veteran demanded the Christian flag be taken down from a veterans memorial at the city's Central Park.
On the advice of lawyers, the council decided to remove the flag, rather than spend the estimated $200,000 to $300,000 it would cost to fight the American Civil Liberties Union in a First Amendment lawsuit. In August, the council and the city attorney received letters from the American Civil Liberties Union of North Carolina and the Americans United for the Separation of Church and State urging the removal of the flag, which prompted their decision.
In October, Katy Parker of the ACLU in North Carolina told FoxNews.com, "The city council did the right thing to take down the flag because it was endorsed by the city as part of a public monument. Now, if private citizens want to hold the flags, it is absolutely their right to do so."
But the removal of the flag angered residents, who flew the Christian flag from private homes and storefronts in a sign of protest. Some 5,000 people attended a rally in the city on Oct. 23, urging the city council to return the Christian flag to the memorial.
Still, the advocacy group American United for the Separation of Church and State says the policy under consideration in King could be flawed because it is limited to religious flags.
"A policy like that would have the effect of favoring religion over non-religion, which the Supreme Court has said is a violation of church-state separation," Barry W. Lynn, executive director of Americans United, told FoxNews.com. " We believe the city should adopt a policy that treats religious views the same as non-religious views. That's the best way to avoid further constitutional problems."
Monday night, city officials said they plan to spend two months working out the policy's details with their attorneys, and that the flag will stay down until the new rules are in place, the Journal reported.
The Associated Press contributed to this report.