NORAD's Santa tracker draws criticism with fighter jet escort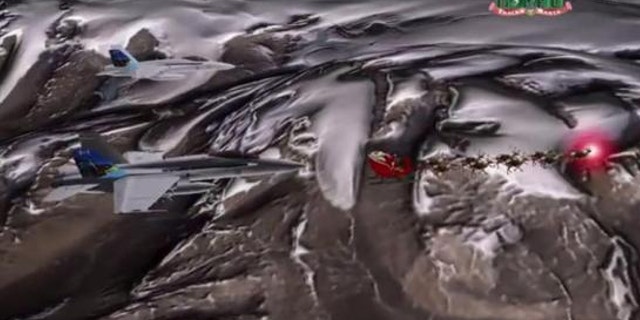 A North American Aerospace Defense Command website showing Santa Claus delivering presents while flanked by fighter jets has some child advocates raising concerns about Saint Nick's new travel companions.
NORAD Tracks Santa, operated by the joint U.S.-Canada command, has provided children with information about Santa's whereabouts since 1955. In recent years, Santa updates have included animated videos showing Santa on his flight path.
In addition to Santa's traditional sleigh and reindeer, NORAD has added an animated fighter plane escort to give a realistic feel to the popular program, a command spokesman told Reuters.
"We wanted to let folks know that, hey, this is a NORAD video, and we're the military and this is our mission," Navy Captain Jeff Davis said.
Allen Kanner, a California child and family psychologist and co-founder of the Boston-based Campaign for a Commercial Free Childhood, told The Boston Globe the Pentagon is "completely out of line" for linking Christmas with the military.
"Children associate Santa with gifts and fun and everything else that is positive about Christmas," Kanner told the newspaper. "They are associating this with the military in children's minds."
Another video on the NORAD Tracks Santa website shows military personnel preparing for a test flight with an intelligence officer asserting that "intel can confirm that Jack Frost and the Abominable Snowman will not be a threat," The Globe reported.
"I think people are quite aware of the military's true mission," said Amy Hagopian, a professor of public health at the University of Washington, told the newspaper. "If the military wants to keep its ranks stocked, it needs to appeal to children. The military knows it can't appeal to adults to volunteer. It is like the ad industry."
Davis told Reuters that NORAD videos have linked fighter escorts and Santa since the 1960s, but 2013 marked the first time the jets had appeared in an animated version.
"It's still cutesy since it's for kids, but we don't want people to lose sight of our true mission," Davis told The Boston Globe.
NORAD Tracks Santa began nearly 60 years ago when a newspaper listed the wrong number for children to call Santa and they ended up calling NORAD's predecessor, the Continental Air Defense Command.
The program drew 22.3 million unique website visitors last year and generated 114,000 phone calls fielded by 1,200 volunteers, Davis told The Globe. This website will be available in eight languages this year.
Click here for more from The Boston Globe.