Nike billboard featuring Kaepernick hovers over San Francisco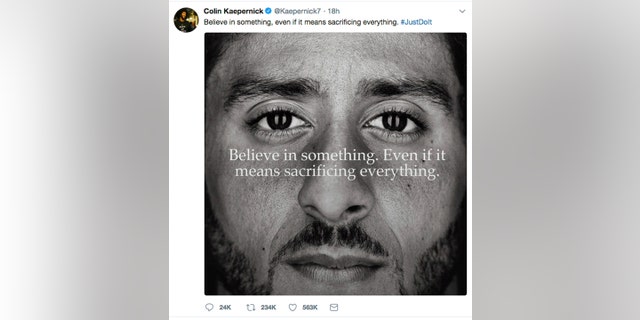 NEWYou can now listen to Fox News articles!
A black-and-white Nike billboard of Colin Kaepernick hovers above a building in San Francisco.
The vertical sign atop a Nike store is part of the sportswear company and the former San Francisco 49er's "Just Do It" campaign to celebrate its 30th anniversary.
The "gray and solemn" eyes of Kaepernick are looking over Union Square in the city where he was once a quarterback, the San Francisco Chronicle reported. A message that read "Believe in something. Even if it means sacrificing everything" in white letters was printed over Kaepernick's face.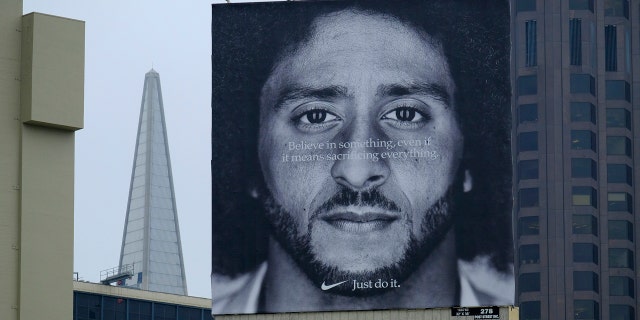 His activism began when he kneeled during the national anthem of football games to protest social injustice. Nike aimed to reference the movement he sparked, the report said.
Kaepernick is currently unsigned and has a pending lawsuit against the National Football League, which he accuses of blacklisting him.
The company famous for the swoosh is now facing backlash since its announcement of the campaign.
President Trump weighed in on Tuesday, telling The Daily Caller that he "thinks it's a terrible message."
Trump said it's Nike's right to make its own business decisions, as much as he disagrees with the endorsement, according to the report.
"It is what this country is all about, that you have certain freedoms to do things that other people think you shouldn't do, but I personally am on a different side of it," the president said.
Kaepernick already had a deal with Nike that was set to expire, but it was renegotiated into a multiyear deal to make him one of the faces of the anniversary campaign, according to a person familiar with the contract. The person spoke to The Associated Press on condition of anonymity because Nike hasn't officially announced the contract.