Nicaraguan Diplomatic Official Found Dead in NYC Apartment Had Hair in Hands, Possibly Self-Inflicted Wounds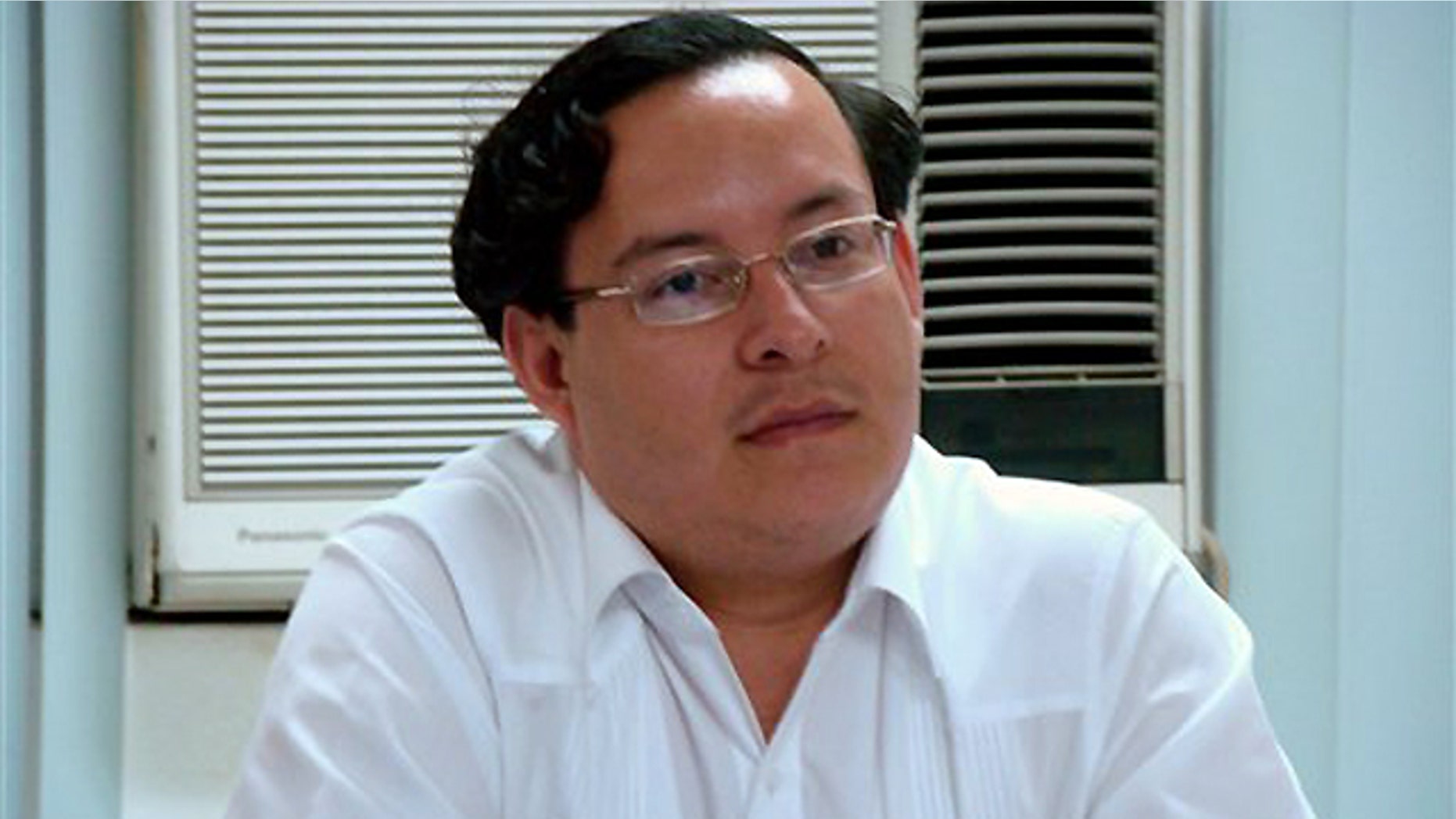 NEW YORK – A Nicaraguan diplomat found dead in his New York City apartment Thursday, his throat slashed and his stomach stabbed, was grasping hair in both hands and at least some of his wounds appeared to have been self-inflicted, police said Friday.
Investigators haven't determined whether Cesar Mercado's death was a homicide or suicide, Police Commissioner Raymond Kelly said.
Mercado's body was found Thursday by a driver who had come to take him to his job at the United Nations, where Mercado was acting consul. He was last seen alive Wednesday afternoon.
The diplomat was stabbed a dozen times in the abdomen, was grasping hair in both hands, but it appeared from the initial autopsy that some of the wounds may have been self-inflicted, Kelly said Friday. More investigation was needed to determine who the hair belonged to and a cause of death.
Kelly described the slashes as "hesitation wounds," meaning they were not clean, decisive wounds that are often made when someone aims to kill.
"It's something that causes the medical examiner to pause for thought," Kelly said.
There were no signs of forced entry or a struggle in Mercado's apartment, he added.
Authorities also were investigating the possibility that Mercado was murdered by a gay lover, police sources told the New York Post.
Neighbors said they heard men arguing in the apartment before Mercado's death and that the diplomat was sometimes seen with dangerous-looking men, the sources said.
"I saw him often with young men who looked like they were unsavory," a woman who lived in his building told the Post.
A co-worker said Mercado had recently tested positive for AIDS, so police were investigating the possibility that he was killed by someone outraged over the diagnosis, the sources said.
Mercado, 34, usually arrived by subway at about 7:30 a.m., but when he didn't show up, the driver, Edgar Hernandez, went to the apartment and discovered the door unlocked. He opened it to find Mercado's body on the ground. His clothes were smeared in blood and he was wearing socks but no shoes.
It was initially thought one knife was used in the attack and was found near the body, but investigators later determined there were two knives involved, a 12-inch steak knife found at the side of a blood-filled bathroom sink and a smaller paring knife found in the sink.
Sources told the Post Mercado's throat was slashed so severely his head was nearly severed from his body and the apartment was covered in blood.
Security cameras were not working in Mercado's Bronx apartment building, but police were canvassing the area for any other useable video. They also were examining cell phone records.
Friends said Mercado was ill in recent weeks and was diabetic. They also described him as a kind, happy, caring, friendly person who had no enemies.
"He had no enemies. He was loved by everyone who knew him," a friend, Amparo Amador, said in Spanish. "When I first heard of his death, I thought he must've died from natural causes because there would be no way he could be killed."
Mercado, 34, came to the U.S. in 2001 to work as an assistant in the office of Nicaragua's ambassador to the United Nations, the friend said. He was single, and his family was in Nicaragua.
He eventually took on the duties of consul general, working with passports and immigration visas.
Amador said he was like a son to her. Recently, she'd urged him to go to the doctor because he looked thin, and he was diagnosed with diabetes. The two danced at a wedding of another friend in Brooklyn last week, she said.
"He was the perfect guy. The best person, just wonderful," she said. "I feel as if one of my children has died."
Leaders from 192 nations were in town for the General Assembly, including Nicaraguan President Daniel Ortega, who is a fierce critic of the United States and a defender of North Korea and Iran. President Barack Obama addressed the General Assembly on Thursday.
Nicaraguan Vice President Jaime Morales said U.S. Ambassador Robert Callahan assured him that the FBI would do everything possible to investigate.
The assistant to the ambassador said the Nicaraguan mission in New York couldn't immediately release any information.
Mercado lived on the top floor of a six-story apartment building in a working-class section of the Bronx. Police barred reporters from entering the building Thursday. Residents said they didn't hear anything out of the ordinary Wednesday night, but some said it's often noisy in the building at night.
A crowd gathered outside the building Thursday. Police had cordoned off the entrance, though some neighbors peered out from their apartment windows down at the scrum of reporters below. An SUV with consul plates and a Nicaraguan flag dangling from the rearview mirror was parked down the street.
Sharon Fonseca, who's from Nicaragua and lives nearby, said she went to see what was going on after a friend told her about Mercado's death. She said she had met him at the consulate in Manhattan, where he helped her get a passport.
"He was a nice person," she said. "He took care of me personally."
Mexican Consul Ruben Beltran, a leader of the Association of Latin American Consuls, said the organization will ask authorities for a prompt investigation.
"The Latin American community in New York has lost an active consul, who will be missed by his friends, colleagues and countrymen," the association said in a statement.
Beltran said he remembered Mercado's solidarity.
"There is concern among the community of Latin American consuls," he said. "He was an active colleague; he always came to the important events. He was a generous, friendly, straightforward person, a good colleague."
It was earlier thought Mercado was attending the General Assembly's annual meeting, but officials now believe he just had his office at the U.N.
Click here for more on this story from the New York Post.
The Associated Press contributed to this report.