New York state trooper killed responding to domestic dispute, official says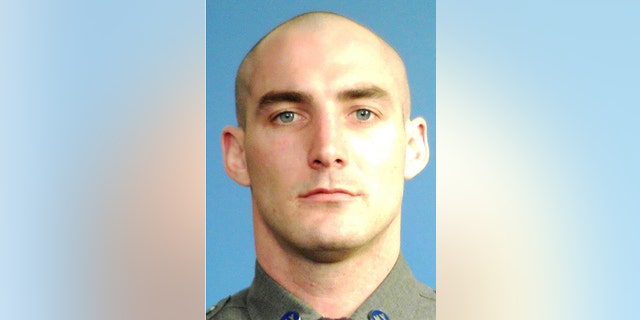 A New York state trooper was shot and killed Monday by a now-deceased gunman when he responded to a domestic disturbance call near the Pennsylvania border, police said.
Trooper Nicholas Clark, 29, was on the scene of a domestic dispute south of Corning, near the Pennsylvania border, around 3:30 a.m.
OFFICERS KILLED IN THE LINE OF DUTY IN 2018
The 911 call was made by 43-year-old Steven Kiley's wife. Kiley, according to police, shot Clark before apparently taking his own life.
Kiley had been listed online as the principal of Bradford Central School District.
The shooting occurred near SUNY Corning Community College, which prompted a massive police response. The college said in a Facebook post there was no threat to campus.
"All offices are open. The State Police are investigating the incident and are using one of the College's parking lots as a Command Center. All questions should be referred to the State Police," the college said.
Clark was a two-time state wrestling champion and star football player who had a wrestling scholarship to the University of North Carolina, which he attended for a year, State Police Maj. Richard Allen said Monday.
The trooper tried out for the NFL's Buffalo Bills team before entering the New York State Police Academy, from which he graduated in 2015.
MAN KILLED BY POLICE WAS US NAVY VET TRYING TO BREAK UP FIGHT, REPORTS SAY
"He transferred back here to the Bath barracks in August 2017, where he was very proud to serve the citizens that he called friends and neighbors, to try to give back to the community," Allen said.
New York Gov. Andrew Cuomo referred to Clark as "a stellar trooper with an extraordinary record. He had his whole life before him."
Since the start of 2018, at least 46 law enforcement officers across the U.S. have died while on duty — with 28 of the deaths caused by gunfire.
Monday's incident marked the second time a New York state trooper was killed responding to a domestic call in just under a year.
Trooper Joel Davis, 36, was fatally shot July 9, 2017, in northern New York by an Army soldier as he responded to reports of gunfire at the soldier's home near Fort Drum. The soldier also killed his wife and wounded another woman before surrendering to troopers.
The Associated Press contributed to this report.