New York police seek hit-and-run driver who killed expectant parents, while baby dies in hospital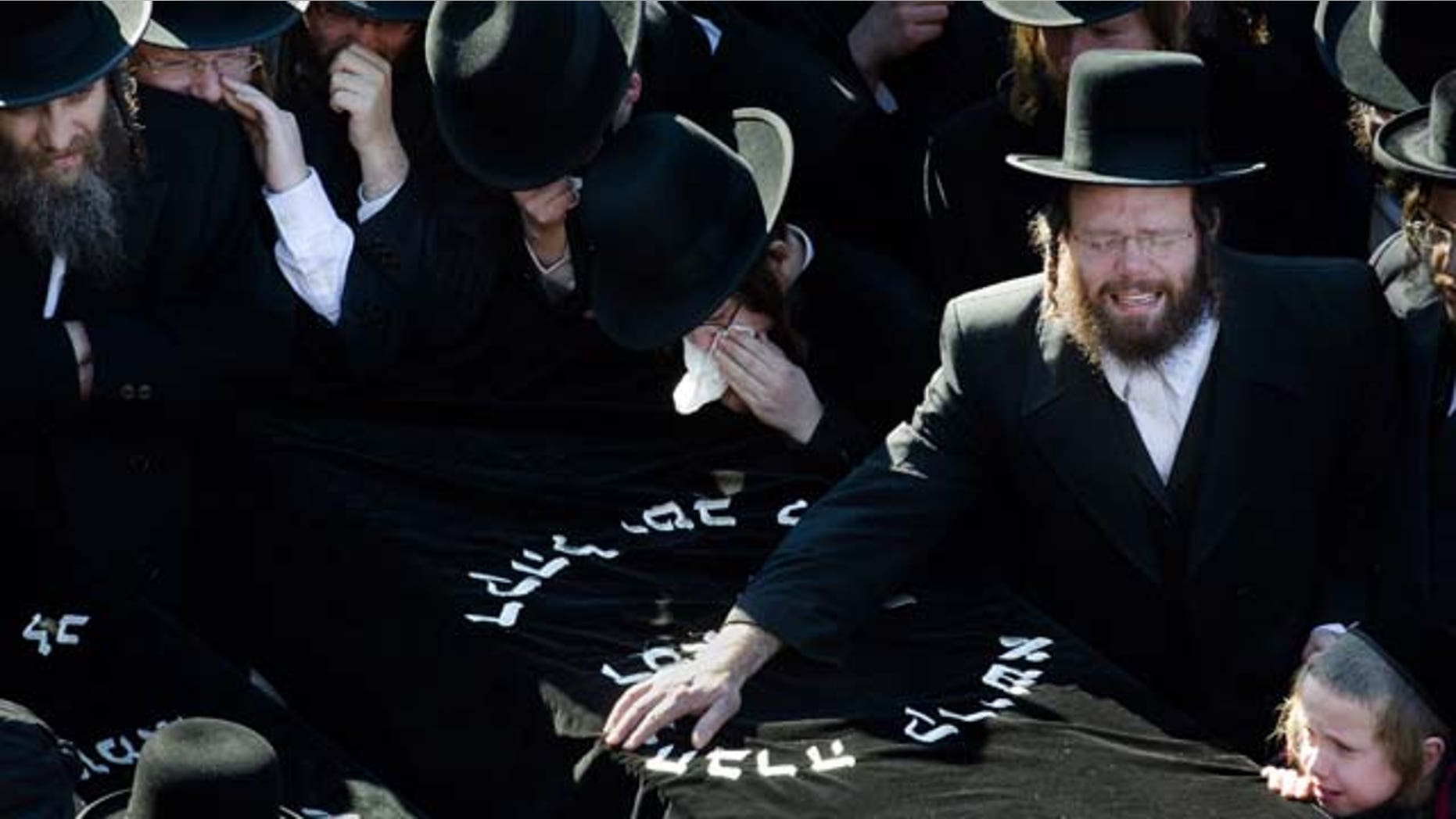 New York police say they are searching for the driver and a passenger in a BMW who fled the scene of a triple vehicular homicide after slamming into a cab carrying an expectant couple, whose baby later died.
NYPD spokesman Paul Browne said police are looking for 44-year-old Julio Acevedo, who had a DWI arrest in February. Acevedo was driving at least 60 mph when the car slammed into the cab carrying the couple to a hospital, police said.
Doctors were able to temporarily save Nachman and Raizi Glauber's newborn baby boy through a cesarean section, but the couple, both 21, died Sunday. The baby died Monday at Bellevue Hospital, according to Isaac Abraham, a spokesman for the family's Orthodox Jewish community.
"If he would have stayed alive, he would have been in memory and a little reminder to the grandparents of his parents," Abraham told 1010 WINS. "And now that little boy has been torn away as well."
Nachman and Raizi Glauber, both 21, were looking forward to welcoming their first child into their tight-knit community of Orthodox Jews.
The horrific crash happened in the Williamsburg section of Brooklyn as the couple headed to a hospital.
The engine of the livery car ended up in the backseat, where Raizi Glauber, who was seven months pregnant, was sitting before she was ejected, Abraham said. Her body landed under a parked tractor-trailer, said witnesses who raced to the scene after the crash. Nachman Glauber was pinned in the car, and emergency workers had to cut off the roof to get him out, witnesses said.
The medical examiner said both Glaubers died of blunt-force trauma.
"We in the community are demanding that the prosecutor charge the driver of BMW that caused the death of this couple and infant ... with triple homicide," Abraham said in a statement. "This coward left the scene of the accident not even bothering to check on the people of the other car."
"Show your face," the cab driver's wife, Yesenia Perdomo, also told The New York Times. The newspaper identified 32-year-old Pedro Nuñez Delacruz as the cab driver.
Neighbors and friends said the boy weighed only about 4 pounds. The cab driver was treated for minor injuries at the hospital and was later released.
Meanwhile, police said the registered owner of the BMW, who was not in the car, was charged with insurance fraud. Police said Takia Walk, 29, was arrested Sunday. They did not have any details regarding the charge.
On Saturday, Raizi Glauber "was not feeling well, so they decided to go" to the hospital, said Sara Glauber, Nachman Glauber's cousin. Abraham said the Glaubers called a car service because they didn't own a car, which is common for New Yorkers.
The Glaubers were married about a year ago and had begun a life together in Williamsburg, where Raizi Glauber grew up in a prominent Orthodox Jewish rabbinical family, Sara Glauber said.
Raised north of New York City in Monsey, N.Y., and part of a family that founded a line of clothing for Orthodox Jews, Nachman Glauber was studying at a rabbinical college nearby, said his cousin.
Brooklyn is home to the largest community of ultra-Orthodox Jews outside Israel, more than 250,000. The community has strict rules governing clothing, social customs and interaction with the outside world. Men wear dark clothing that includes a long coat and a fedora-type hat and often have long beards and ear locks.
Jewish law calls for burial of the dead as soon as possible, and hours after their deaths the Glaubers were mourned by at least 1,000 people at a funeral outside the Congregation Yetev Lev D'Satmar synagogue.
The sound of wailing filled the air as two coffins covered in black velvet with a silver trim were carried from a vehicle. A succession of men and women delivered eulogies in Yiddish, sobbing as they spoke into a microphone about the young couple. "I will never forget you, my daughter!" said Yitzchok Silberstein, Raizi Glauber's father.
Afterward, the cars carrying the bodies left and headed to Monsey, where another service was planned in Nachman Glauber's hometown.
"You don't meet anyone better than him," said his cousin. "He was always doing favors for everyone."
She said Nachman's mother herself just delivered a baby two weeks ago.
"I've never seen a mother-son relationship like this," Sara Glauber said. "He called her every day to make sure everything was OK. He was the sweetest, most charming human being, always with a smile on his face."
She added that, of him and his bride, "if one had to go, the other had to go too because they really were one soul."
Click for more from MyFoxNY.com.
The Associated Press contributed to this report.