New York Man Trades Car Encased in Ice for New Set of Wheels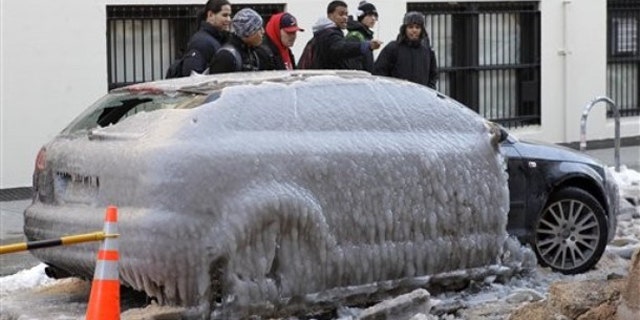 The ice car runneth.
After $7,300 worth of repairs, the Audi that spent several days encased in ice thanks to the snowstorm and a broken water pipe is back on the road.
"It looks brand new," said Pete Helfer, 32, after picking up the Audi A4 wagon he had needed hammer, chisel and blowtorch to free from its igloo on a New York City street. "But I'm uneasy about driving it. Cars never run the same after an accident, and this is the same ice that ripped up the city's streets."
Fortunately for the married marketing executive, he's no longer the unluckiest car owner in New York -- in fact, he is happily putting his old wheels back on ice. A car dealer in Manhasset, Long Island, has agreed to take the 2008 Audi wagon and replace it with a 2011 Infiniti.
This all worked out better than I could have imagined that day I was doing all that chipping around the car," Helfer said as he checked out his new black Infiniti G37X. "With everything it's been through, my car was probably worth about $20,000, and the new one is at least $40,000."
Manhasset Infiniti general manager David Fine was just doing "what he thought Audi should have done in the first place," Helfer said.
"I'm not too materialistic, but I really just wasn't psyched about driving that car around town after knowing what happened to it," Helfer said.
Click here to read more on this story from the New York Post