New Mexico Gov. Martinez declares state of emergency over fast-moving wildfire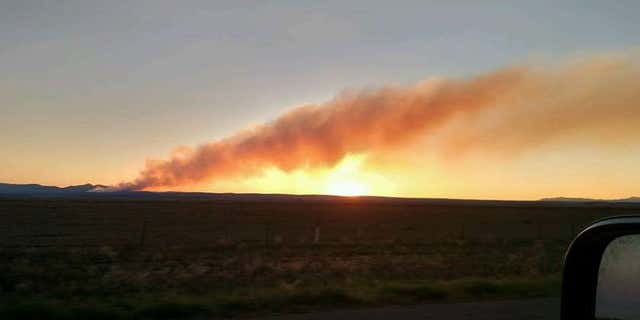 NEWYou can now listen to Fox News articles!
New Mexico Gov. Susana Martinez declared a state of emergency Wednesday as a wildfire in a mountain range raged with no containment.
According to KOAT-TV, Martinez has placed the National Guard on standby and ordered state agencies to help local officials in the affected areas. Fire officials have urged the Chilili area to evacuate ahead of the quickly-spreading inferno.
The wildfire started in the Manzano Mountains Tuesday and has already burned about 2,000 acres.
New Mexico is fighting the fire with two 20-person hotshot crews, 4 helicopters, 2 lead planes, 1 air attack, 6 single engine air tankers and 6 larger air tankers, according to KOAT-TV.
The Torrance County Sheriff's Office ordered voluntary evacuations once the fire started to move. About 50 homes have already been evacuated.
The U.S. Forest Service said it's unclear how many structures the fire as consumed.
Fire crews were having trouble fighting the flames Tuesday because the inferno was moving too fast. Officials are hoping that the fire line holds and that air attacks would be able to stop the fire from spreading so quickly.
Residents in the area are worried that the fire will continue to spread.
"The fire is not that far from our property. It's probably somewhere in the neighborhood of 2 to 4 miles. It's really deceiving," Ryan Steffens told the TV station. "I think that this thing is definitely close enough that I need to keep tabs on it."
Some residents have livestock and land in the region. Manuel Urban told KOAT-TV that his family was ready to move, along with his livestock, should the fire threaten his land.
"The only thing I'm worried about is the wind, because if it picks up, then there's nothing that is going to stop that fire," Urban said.
Officials have directed residents to Facebook for information on the Dog Head fire.
According to the Albuquerque Journal, the cause of the fire has yet to be determined. Forest Service spokeswoman Arlene Perea said they will investigate once the fire calms down.