New Jersey school bus crash involving dump truck leaves at least 2 dead
NEWYou can now listen to Fox News articles!
At least two people were killed and more than 40 were injured in New Jersey on Thursday after a school bus and dump truck collided on an interstate, leaving a mangled wreck in the middle of the highway, officials said.
The crash occurred around 10:20 a.m. on Interstate 80 in Mount Olive, located about 50 miles west of New York City. The front end of the bus, which had 38 students and 7 adults on board, appeared to be crushed or ripped off, and it was sheared off from its undercarriage.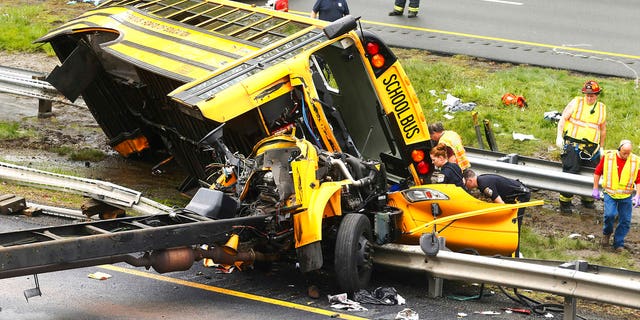 Forty-three of those 45 people were injured and transported to nearby hospitals, Gov. Phil Murphy said at a news conference Thursday afternoon. Two others — a student and an adult — died in the accident.
The driver of the dump truck was also transported to an area hospital. It's unclear what injuries he sustained.
New Jersey State Police tweeted Thursday morning the law enforcement agency was investigating a "serious" motor vehicle accident involving a school bus and dump truck," and added that all highway lanes were shut down.
A red dump truck with a mangled front end was parked along the highway nearby.
The school bus had markings for the Paramus School District. A fifth grade class trip for East Brook Middle School was scheduled for Waterloo Village, a historic site about 5 miles away from the crash scene, according to the school's district's website. Holly Tedesco, Paramus Council President, said at a brief news conference that fifth-graders on the two other buses heading to Waterloo Village have since returned to their respective schools.
Photos posted to social media showed the bus on its side in the median of the roadway.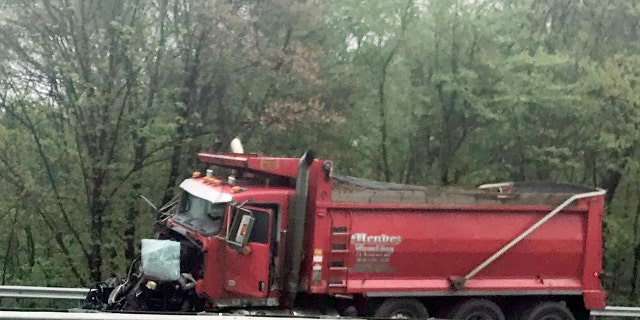 Mount Olive Mayor Rob Greenbaum told the Daily Record he rushed to the scene and was observing the rescue efforts from an overpass overlooking the highway.
"There's an incredible emergency response from throughout Morris County and by State Police," he told the newspaper. "It's a horrific scene."
"We had patients laying all over the median and on the interstate," Jeff Paul, director of the Morris County Office of Emergency Management, said. "There were all kinds of injuries, every injury type you could expect in a crash of this magnitude."
Paul added that some of the first responders were "very emotionally upset. It was a rough scene to see."
Student Theo Ancevski, who was sitting in the fourth row of the bus, said he "heard a scraping sound and we toppled over the highway. ... A lot of people were screaming and hanging from their seatbelts."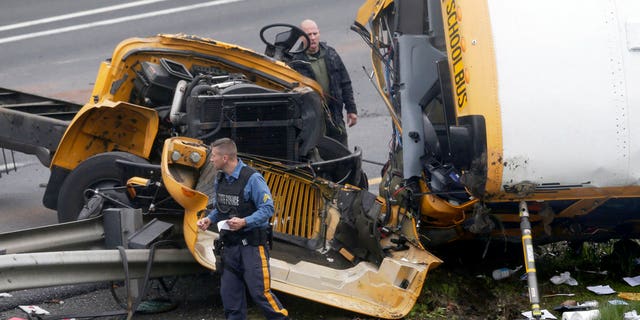 Seventh-grader Alejandro Garcia told the Record that students were told to return to homeroom on Thursday morning. As his classmates started searching online to see what had happened, they realized there had been an accident.
"People who I'm close friends with, who have brothers and sisters on that bus, started crying, and everybody just started sympathizing," Garcia said. "It was just a time of need for everyone."
At least two canine units were searching the woods along the roadside Thursday afternoon, but it wasn't clear why.
Police didn't release details of how the crash happened, but the trucking company had a string of crashes in recent years and a higher than average rate of violations that sidelined its vehicles, according to federal safety data.
Waterloo Village is a historic site depicting a Lenape Indian community and once-thriving port along the Morris Canal in northwestern New Jersey. It features several historic homes, a blacksmith shop, general store and more. It's a popular spot for school trips.
Fox News' Shira Bush and The Associated Press contributed to this report.