New Jersey police search for suspect after concert shooting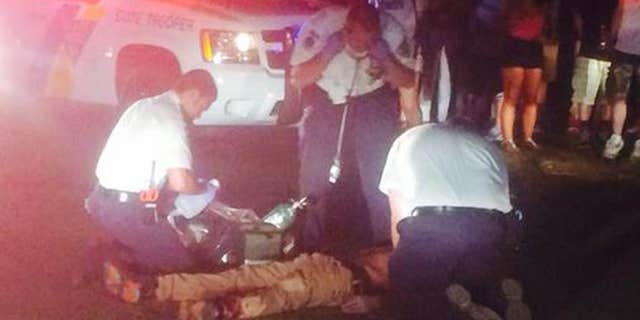 NEWYou can now listen to Fox News articles!
HOLMDEL, N.J. – State police on Tuesday were looking for a suspect and witnesses to a shooting that wounded two men outside a Big Sean and J. Cole concert.
The shooting happened late Monday in the PNC Bank Arts Center parking lot, causing panic among the crowd attending the hip-hop show.
State troopers using K-9 units and a helicopter scoured a wooded area near the Holmdel amphitheater, but no arrests had been made as of early Tuesday night. A $5,000 reward was being offered for information leading to the shooter's arrest.
State police said the victims, identified only as 23- and 24-year-old residents of Neptune, were both shot multiple times. They were hospitalized in critical but stable condition, but further details on their injuries were not disclosed.
Eighteen-year-old Omayma Bougdour told the Daily News that gunfire began after an argument. She says "everyone started sprinting and stampeding."
One of the men was "not responsive," and the other was breathing heavily and begging for a drink of water, she said.
Another witness, Mike Lefanto, told the newspaper that he was walking to his car with his 13-year-old daughter when he saw the two victims speaking to a woman in the parking lot, "talking about her body." He said a man soon approached the victims and fired about seven shots.
"He took those two dudes out right away," Lefanto said. "It looked like he knew what he was doing."
Big Sean and J. Cole were performing at Madison Square Garden in New York on Tuesday.