New Jersey man kills dog, lies about abusing pet to raise thousands in donations, police say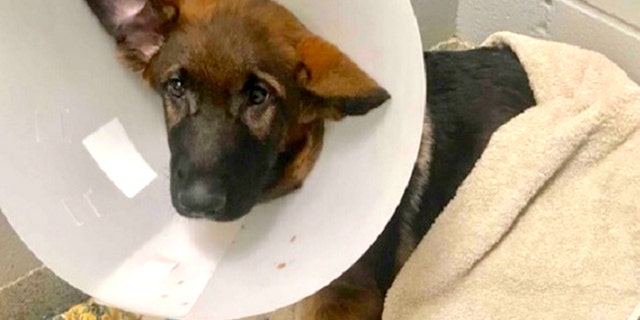 A New Jersey man who tugged on donors' heartstrings to raise thousands of dollars for his beloved injured dog was actually the cause of the canine's pain, beating the German Shepherd regularly until it died, officials said.
Reid Herjo, 24, was caught by police in the cruel lie after he was pulled over for speeding in late January, police said in a Facebook post. Herjo told the officers he was rushing his 14-week-old German Shepherd, named Atlas, to the veterinarian because the dog had been run over by an ATV while Herjo was walking it.
Five days later, however, police received information that Herjo was the one behind Atlas' injuries. By then, Herjo had set up a GoFundMe page to raise money for Atlas' medical bills. He said the pup suffered from injuries caused by a hit-and-run crash, and reeled in 693 donors, who contributed a total of $14,065. The donations were made during a 28-day period.
Police said they eventually discovered Herjo abused the dog on at least two other occasions within six weeks. Herjo, however, said the dog fell down the stairs and down a hill in two separate incidents.
The dog suffered hemorrhaging and several fractures that required surgery and died on Feb. 3. The death was considered suspicious and evidence allegedly showed the dog suffered additional trauma.
Herjo was arrested March 28 and charged with third degree animal cruelty and third degree theft by deception. His Burlington County Superior Court hearing is pending.
In a statement provided to Fox News, a spokesperson for GoFundMe said, "This user has violated GoFundMe's terms of service, and all donors will receive a refund. Additionally, this user has been banned from our platform."
"It's important to remember that our platform is backed by the GoFundMe Guarantee, which means that in the rare cases that GoFundMe, law enforcement or a user finds campaigns are misused, donors are fully protected and will get their money back," the statement continued. "Additionally, we are working with law enforcement on their investigation."