New Jersey homeowner in fight with town over Christmas display raises thousands
OLD BRIDGE, N.J. —  Bright lights illuminate the narrow street as hundreds of shivering visitors, sometimes as many as 1,000 a night, snap photos of a house that every year is converted into a dazzling winter wonderland. The 70,000 Christmas light display includes a cascading archway of lights, floating snowflakes and giant, twinkling trees.
But the house is now in the middle of a Christmas controversy that has pitted the homeowner with the fed-up town – which has imposed a $2,000 a night fee to cover police security costs because of the unmanageable spectacle the house draws, with some traveling hundreds of miles to see it.
"It's absolutely beautiful," said Mariam Ayoub, who drove from East Brunswick to see the house this past weekend. "We saw a picture on Facebook and it was really pretty, so we decided to drive up."
A new neighbor, Lisa Gold, said she heard about the controversy over the fines and wanted to check out the house for herself.
"I was shocked, it's so beautiful," said Gold. "So, I can't see why someone would want to charge the owners for a free show."
Weeks after the story first broke, Thomas Apruzzi, the homeowner, is still digging in his heels. He's refusing to pay the fines – though he has yet to receive one. His story has prompted dozens of donors to send him money to support his battle. In less than two weeks, he's raised $5,000 on his GoFundMe page, and more money keeps pouring in from across the country.
"It's my First Amendment right," said Apruzzi, a devout Catholic and 44-year resident of Old Bridge. "This is how I say Merry Christmas."
Apruzzi, who has invested roughly $100,000 to put on the free light show, pointed out he's not making money from the display. It's a tribute to his late father, "Big Al," a veteran, and lover of Christmas.
"Growing up I didn't have much so my parents couldn't do big celebrations," said Apruzzi, "So I began this for my dad, and he loved it up until the day he died [five years ago]."
Plus, he said, it's his gift to the thousands of people who come to his home for some Christmas cheer.
But the town said it has had enough.
"My first and foremost duty as mayor is to make sure our residents are safe, and that's why I have made sure we have adequate police coverage," said Old Bridge Mayor Owen Henry. "These precautions do not come without an added cost."
On a recent night, the narrow streets were lined with cones as families parked several blocks away to walk to the house. There were about 10 police officers on hand to navigate traffic and manage crowds.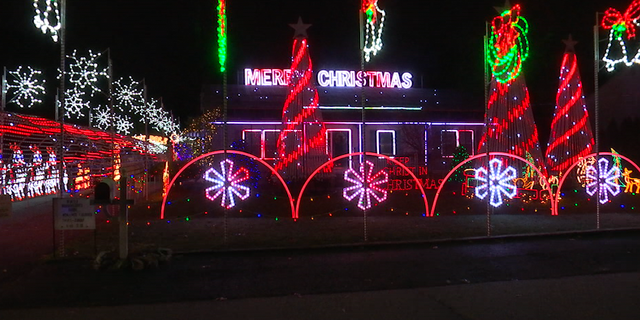 Henry said the over-the-top attraction has caused major traffic jams along dark, dead-end streets and has practically held residents hostage in their homes due to blocked driveways.
Plus, he added, he is not asking of the homeowner something he has not asked of others.
"Like other events throughout the year, the organizers typically are required to cover the cost for the extra police detail that is needed," he said.
Apruzzi said the mayor's claims are inaccurate. Traffic cones, he said, are put up in place nightly to ensure a steady traffic flow. He insists he will not pay the "targeted" fines. It's unclear what will happen to him if he does not pay.
"The show will go on," Apruzzi said.
He plans to continue raising money and said he plans to give away the donations to Home For Our Troops charity.
The mayor said his intention has never been to halt the display.
"I have always held the same position," Henry said, "stating that the show was a go, but with the proper safety measures in place."