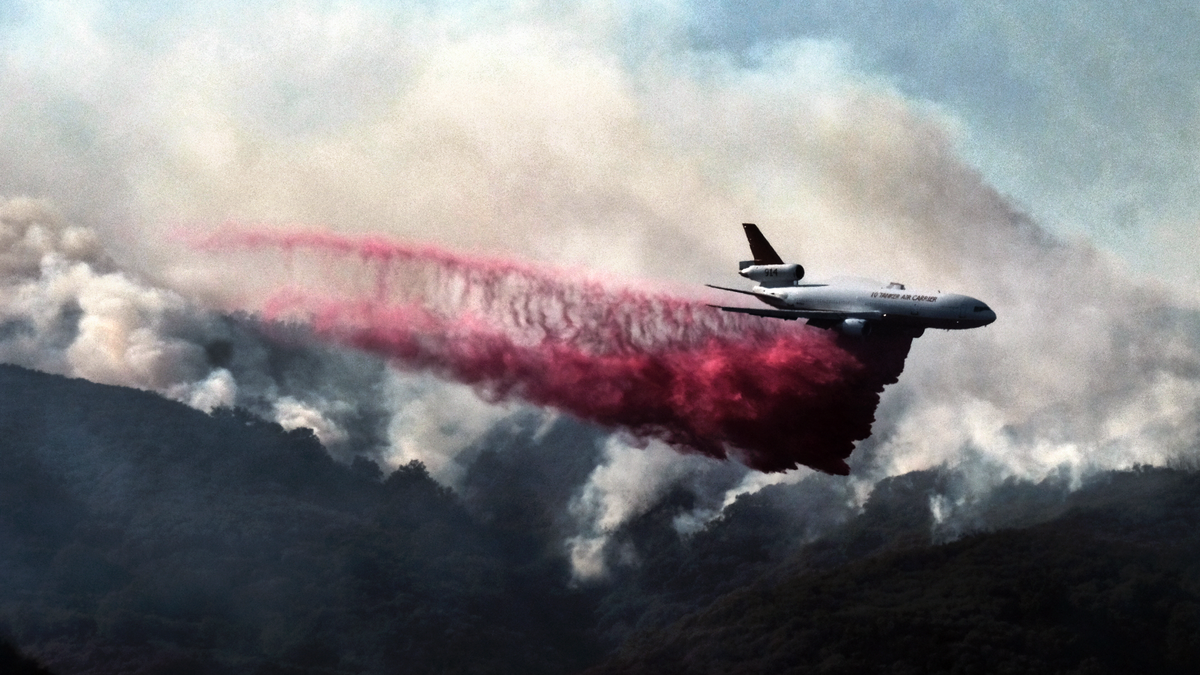 MALIBU, Calif. – The sky was black and flames on the next ridge were fast approaching when Paul Rasmussen, his pregnant wife and 6-year-old daughter fled their mountainside Malibu home Friday for what they thought might be the last time.
His only hope that the large home, once billed in real estate listings as "Shangri-La," would survive was that his next-door neighbor, Randy Berkeley, would not only protect his own house, but also Rasmussen's.
On Monday, after driving a winding road across charred slopes and past smoldering ruins of other houses in Decker Canyon, Rasmussen wrapped Berkeley in a bear hug of thanks after finding their two houses still standing untouched by fire.
"Without him, I knew it was going to be a loss," Rasmussen said. "He just went above and beyond."
Fire officials lifted some evacuation orders Monday while warning Southern California residents to remain vigilant as strong winds fanned new fires.
While some returned home, others were told to leave. As one major freeway reopened, another was closed.
The return to normal for some was juxtaposed with the arrival of chaos for others, illustrating how quickly conditions can turn when erratic Santa Ana winds meet a spark in tinder-dry brush.
At least two people have been killed and 435 buildings, most of them homes, have been destroyed in the fires that erupted last week west of downtown Los Angeles. It is likely that crews assessing damage will discover hundreds more homes lost in the canyons and steep hillsides in inland and coastal areas, Los Angeles County Fire Chief Daryl Osby said.
About 200,000 people were still under evacuation orders even as some residents were allowed to return to inland communities of Agoura Hills, Westlake Village and Newbury Park. Evacuations were lifted Monday night for a portion of West Hills in Los Angeles.
Osby emphasized that about 57,000 homes have been saved from the so-called Woolsey fire, which burned a path about 20 miles (32 kilometers) long and 14 miles (22.5 kilometers) wide — from northwest of Los Angeles through suburbs and the Santa Monica Mountains to the Malibu coast.
Officials reopened U.S. Highway 101 late Sunday to allow people to get into neighborhoods that had been threatened by fire, marking positive developments even though gusty, dry winds returned and fanned new fires.
New fires erupted in the rugged Rocky Peak area along State Route 118 near Simi Valley and in suburban Thousand Oaks, where residents had been evacuated last week from a different fire the day after a gunman killed 12 people at a country music bar in the city.
Firefighters and water-dropping aircraft quickly corralled the new flames. But fire officials said the new outbreaks showed the risk of more fire remained high and the public should be alert and not wait for an order to evacuate if fire is nearby.
"I've been doing this job for 31 years and probably in the last five, maybe seven years, every year seems to get worse," California Fire Chief Scott Jalbert told The Associated Press.
Containment of the Woolsey fire was estimated at just 20 percent but despite the wind there were no big flare-ups and blue sky replaced the massive smoke plumes of previous days.
Surviving Malibu mansions stood in stark contrast to an utterly blackened landscape littered with charred cars, chimneys left standing and downed powerlines.
The death toll stood at two, a pair of adults found last week in a car overtaken by flames a couple miles from Rasmussen's house. Those fatalities added to California's growing wildfire-related death toll.
At least 29 people were confirmed dead in the wildfire that obliterated the Northern California town of Paradise, equaling the deadliest blaze in state history. The search for bodies continued Monday.
The cause of the Southern California fires remained under investigation, and Osby said nothing had been ruled out.
Southern California Edison reported to the California Public Utilities Commission "out of an abundance of caution" that there was an outage on an electrical circuit near where the fire started Thursday. The report said there was no indication its equipment was involved in the fire reported two minutes after the outage.
Downed powerlines and blown transformers have been blamed for several of the deadly fires that have burned in recent years, including some of the Wine Country blazes in Northern California last fall that killed 44 people and destroyed more than 5,000 homes.
In Southern California, relief and heartache awaited those returning home. Rasmussen gasped as he rounded corners on the road home that revealed the extent of damage with more than a dozen nearby houses reduced to rubble.
Berkeley and his wife, Robyn Berkeley, choked back tears as they recounted their ordeal holding back a 100-foot wall of flames and then repeatedly beating back hot spots that continued to flare up throughout the night and next day.
The couple and their 25-year-old son, Colin, used hoses, buckets of water and chain saws to battle flames and cut back brush as the fire kept coming to life.
"Just when you think everything is dying down, everything keeps coming back," Randy Berkeley said.
Berkeley, who said he saved his father's home in Zuma Canyon in 1978, didn't expect any help from firefighters in such a remote place with resources so thin. He said he didn't see a firefighter until Monday.
___
Melley reported from Los Angeles. Associated Press writer John Antczak contributed to this report from Los Angeles.